Climbing Kilimanjaro was a great adventure for us with manifold new experiences. Nevertheless, there were some daily routines also during this several days' hike. Thus, in the following we give you an overview of what a typical day on Kilimanjaro along Machame Route looks like.
In the morning
Days usually start around 7.30 in the morning – getting up and dressed for the day, packing everything, breakfast around 8.00 a.m. and leaving between 8.30 – 9.00 a.m. Every morning, we were given hot water for brushing teeth and having a wash. For breakfast, we frequently had something else, usually a mix of toast, porridge, pancakes, egg, sausages, bacon, butter, jam, and different types of fruits such as mangos and oranges. Tea, coffee, water, and fruit juices were offered to us for drinks. We had breakfast outside at a table in front of our tent each morning. Afterwards, we started the hike for the day.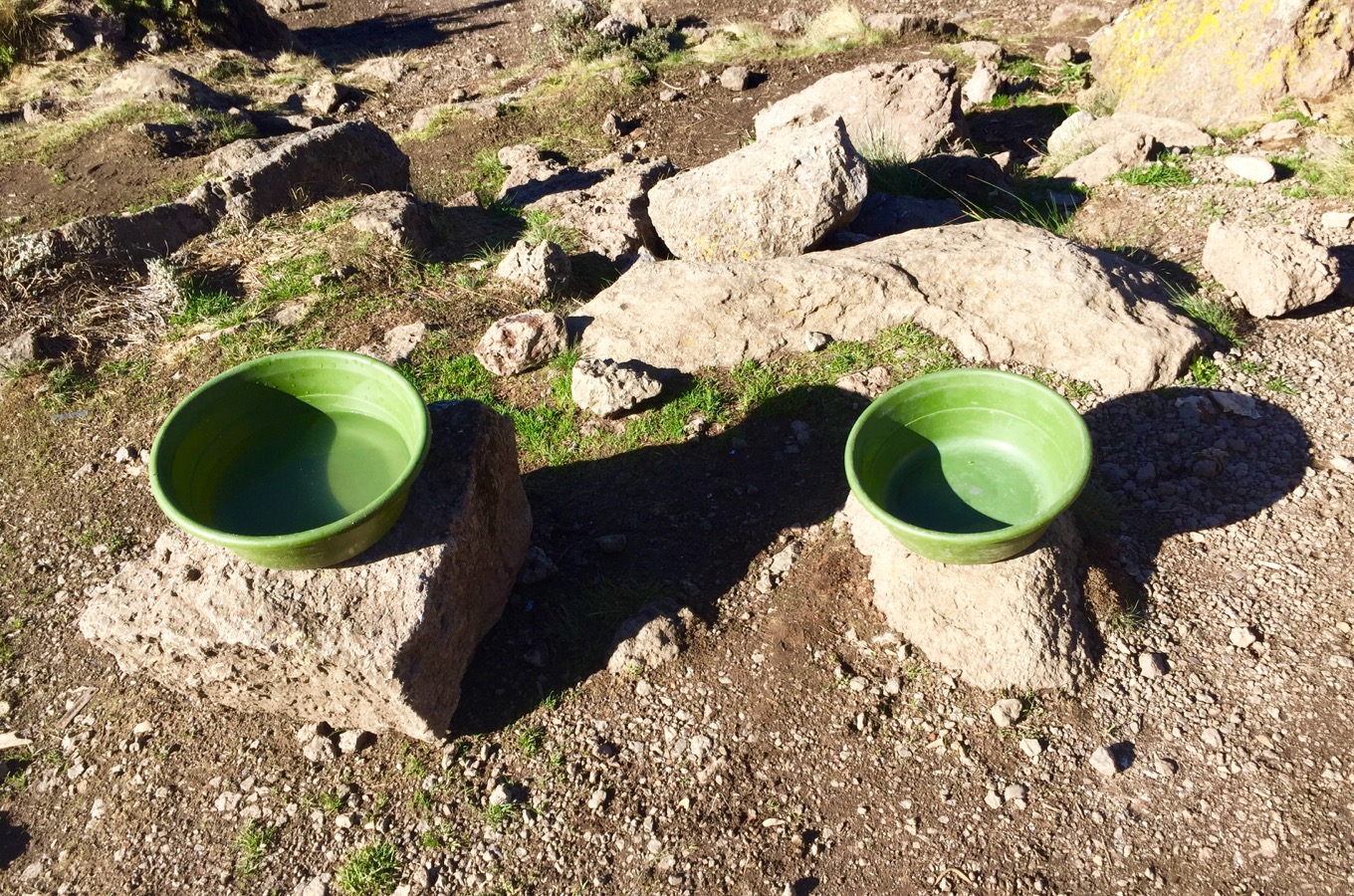 We usually left as a group of four: Erasto (guide), Amos (co-guide), Timo and me. Our porters and our cook stayed in the camp to pack the tents and wrap up everything. Timo and I were only walking with our daypack. It included something to put on in case of cold or rain, our camera, snacks, water, and other things we personally needed during the hike between the camps. We also recommend taking tissues (or toilet paper) and disinfectant as sanitary installations along the route are rare. Normally you walk from camp to camp without the need for sanitary installations, but you never know…
It is also recommendable to take aspirin (in low doses) and vitamins with you, which you can take from time to time during the hike. We also had Ibuprophen on us, however, rarely made use of it. Travelling light during the hike is another success factor for reaching the top of the mountain. Thus, you should try to carry no more than 6-7 kg in your daypack during the hikes from camp to camp. Usually, this is plenty.
All the things we did not need during the hike between the camps we put in waterproof bags, which were then carried by our porters. The porters and our cook overtook us regularly during the hikes. Thus, upon arrival in the next camp, everything was set-up for us. The waterproof bags with our personal belongings were placed in our tent. We recommend putting your luggage in additional small pouches. Doing so better protects them from dust and weather conditions. Moreover, we felt it was more hygienic as the waterproof bags are reused.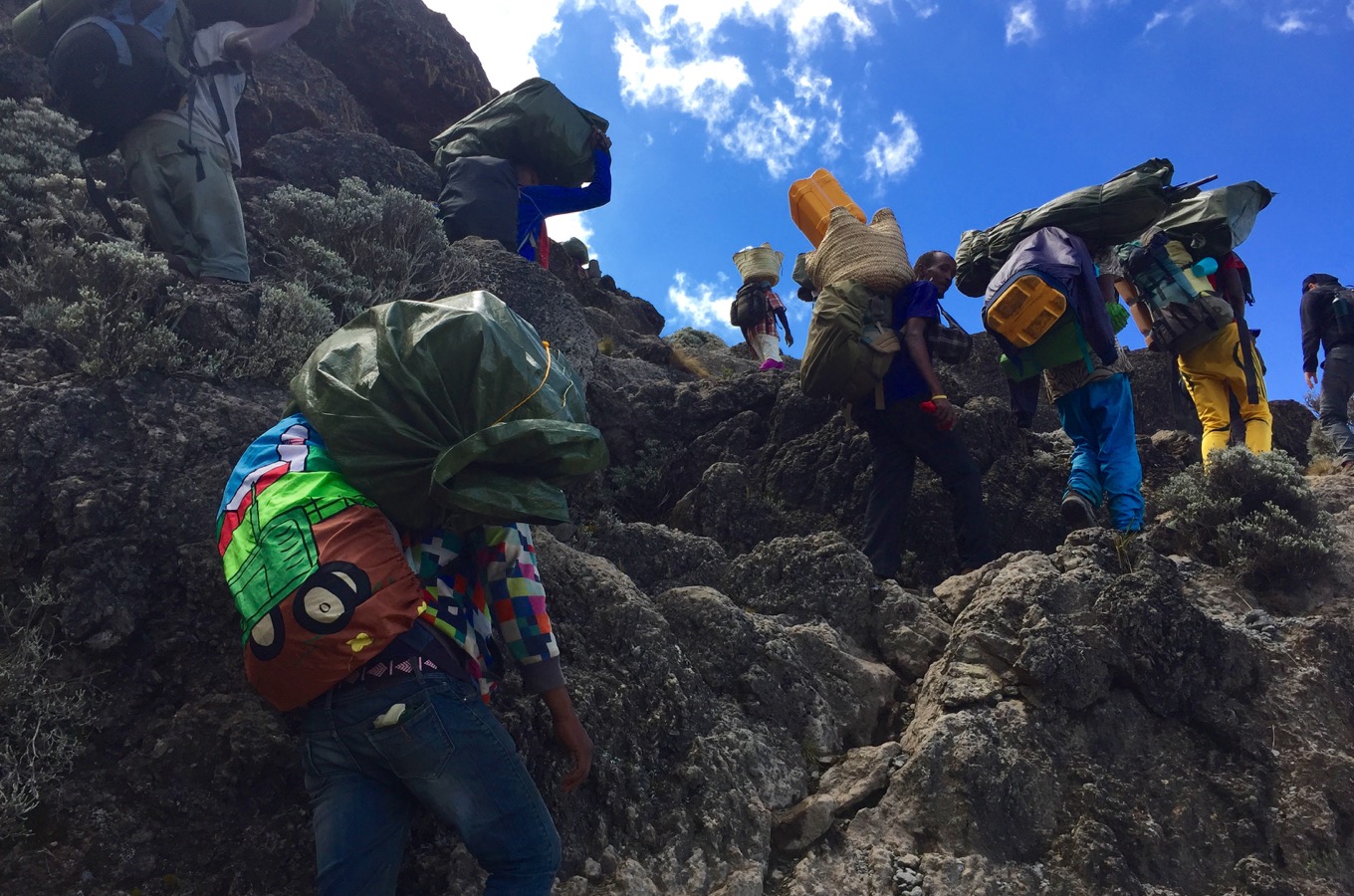 At lunchtime
The hikes from camp to camp are diverse with regards to flora, fauna and terrain. Machame Route is esteemed to be one of the most beautiful routes. However, it is also seen as slightly more demanding than other tracks up the top of Kibo (hence, the name "Whiskey Route"). All in all, climbing Mount Kilimanjaro is a trekking tour and has only little to do with alpine hiking or even climbing. It's for that reason, that people of all ages climb the summit. In any case, a basic fitness-level and certain mental strength are helpful, no matter which route you choose.
Overall, we were walking relatively slowly, however, which is normal. Especially upon first arrival at 4,000 meters (around 13,100 ft) and during hikes at higher altitudes for acclimatization purposes you consciously put one foot in front of the other – "pole pole", slowly slowly. Moreover, we paused frequently to rest, drink and have some snacks. We carried our lunch in respective lunch boxes. We usually had sandwiches, fruit, dried meat, and bread or potatoes.
In the Afternoon
Especially during the afternoon and at lower altitudes rainfall is quite common. Hence, we strongly recommend carrying waterproof or at least water-repellent clothing with you such as rain capes or an umbrella (sounds funny, however, we can confirm it's really useful!).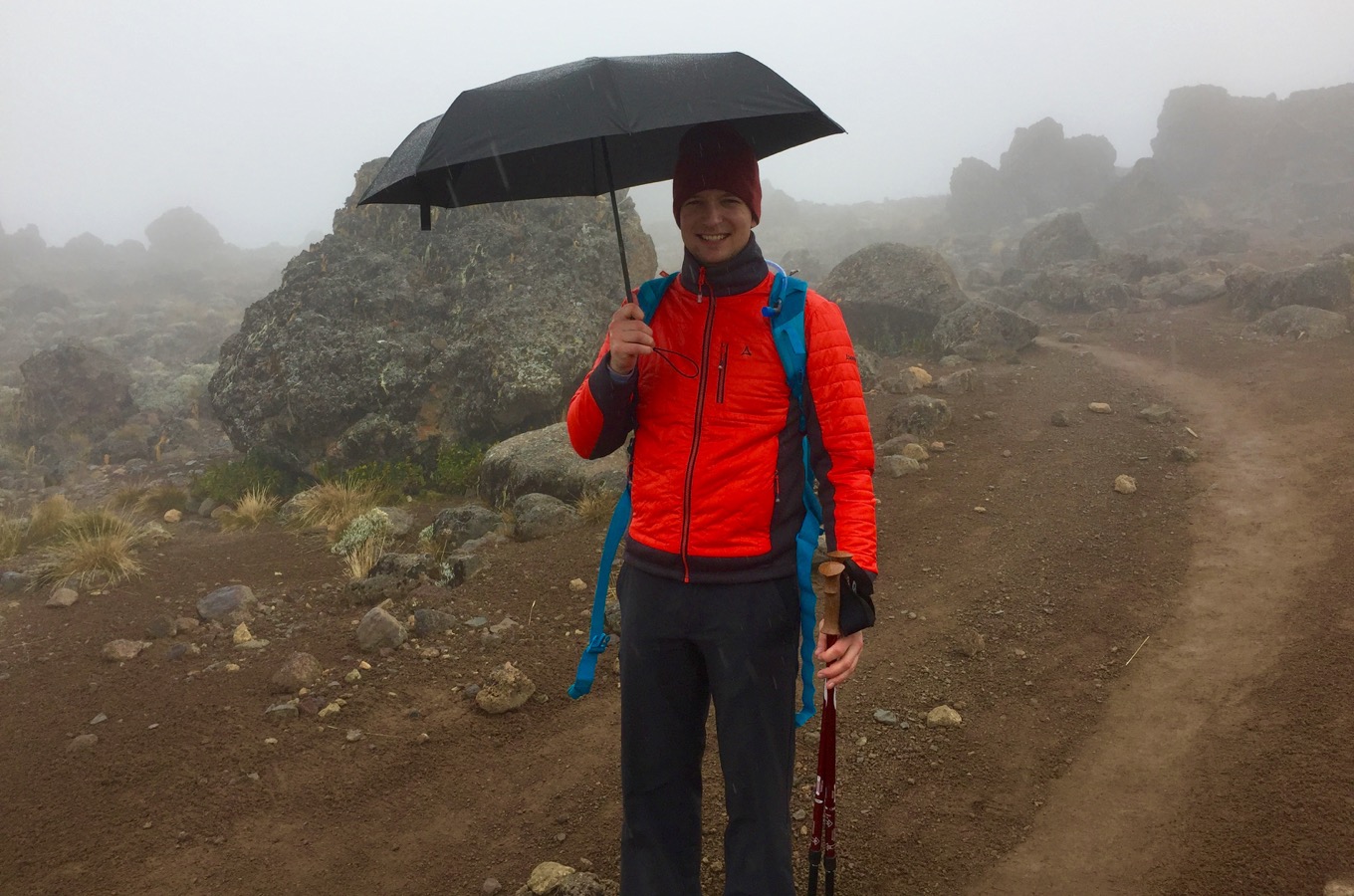 In the late afternoon, we reached the next camp. Once arrived, we unpacked, relaxed and enjoyed the afternoon snack, which usually included popcorn or peanuts and a hot drink. We used the time in the camps until dinner to chat with other travelers or to discover the area. Card as well as board games can also be a nice pastime.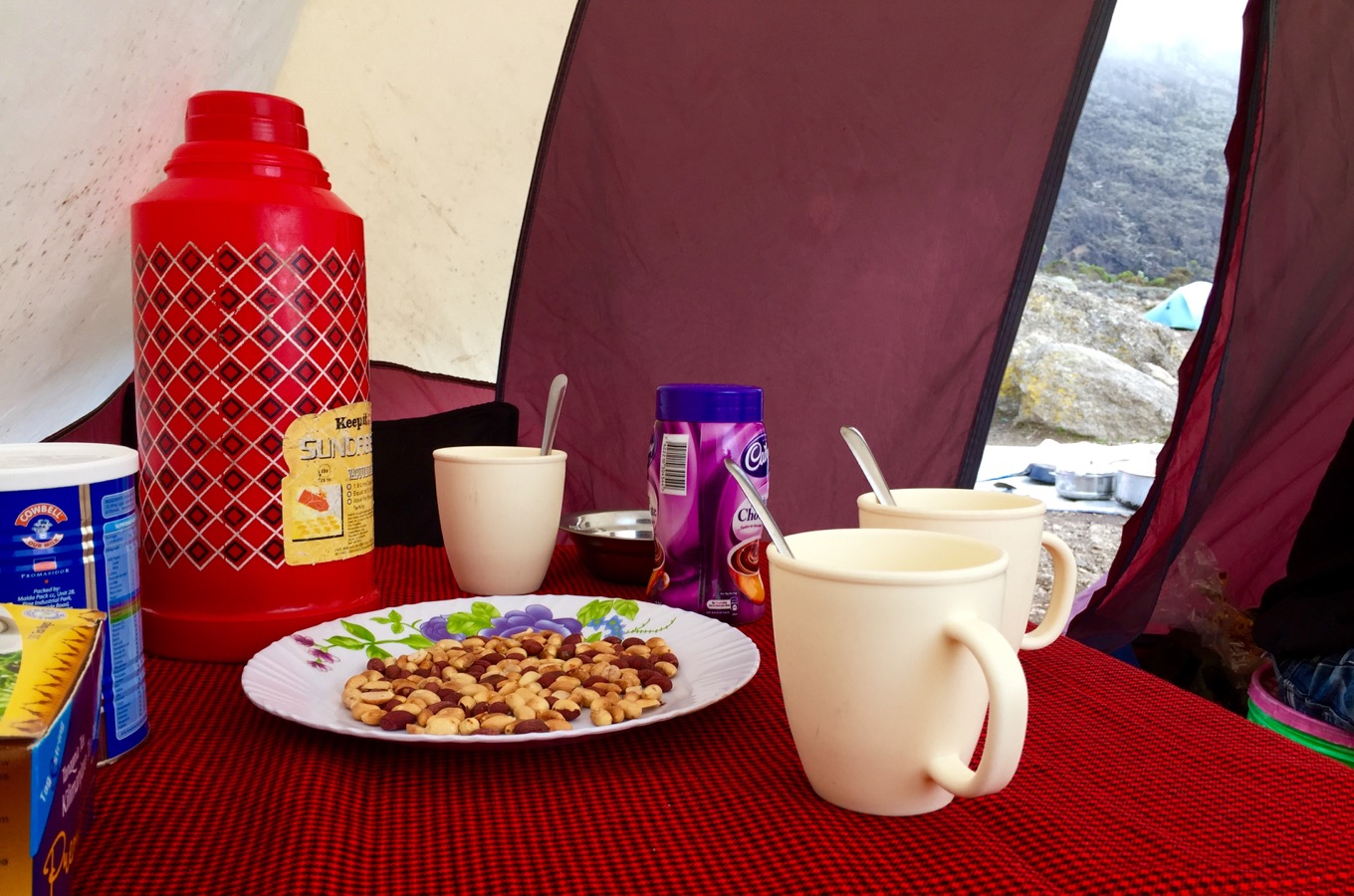 Evenings
We had dinner around 7 p.m., and usually ate together with Erasto or Amos. During dinner time, it is already dark outside, and at altitudes of around 4,000 meters considerably colder at night. We therefore ate inside a larger tent. The mood was always good and convivial. We learned a lot about the Kilimanjaro as well as about the country and its people.
After dinner, we had our regular briefing: What the next day would look like in terms of altitude, walking distance, and "dress code" for the night. Moreover, Erasto measured our heartbeat and the oxygen saturation in our blood by putting a simple clip (pulse oximeter) on our index finger.
Here you find an exhaustive description of our journey along Machame Route.