You would like to know how other travelers liked climbing Kilimanjaro with our team? We are happy to tell you more! Below you can find reviews from other travelers. If you have any questions or also want to travel with us, please contact us at any time!
– Many thanks to all travelers who have shared their experience with us! – 
Ready for your own adventure?
Christel & Friends, Germany
Kilimanjaro / Rongai Route & Zanzibar in February 2023
Christel: Perfect organization, very extensive information material (packing list, etc.), answering all questions (even on weekends), beautiful lodge (before and after the ascent) and a nice guide have fulfilled my life's wish. It was very comfortable for us to climb the mountain as a small group of four women and one man. 19 porters including two cooks made sure that we were completely taken care of. At an altitude of 4000m and when the backpack became too heavy, the guides took it for me. This journey will forever remain in my mind and in my heart. Thanks especially to Ilona from Jambo Kilimanscharo for the organization and your support. Ilona always answers all questions very quickly. Even shortly before departure on weekends. Just perfect and highly recommended
Petra: Our trip to Kilimanjaro was excellently organized. When the trip was imminent and the inquiries piled up, Ilona always answered them very quickly. Transfer to the lodge, the lodge as the starting point of the ascent and the tour company were very well chosen. Even our short-term request for a safari in Tarangire National Park was still organized. Despite the long journey, it was an unforgettable visit. We are very happy to recommend Jambo.
Andreas: All in all, a great trip with everything an adventurer's heart desires from the city. Good organization and a fair price/performance ratio were just as much a part of it as the 24/7 availability of the organizer. Thank you again.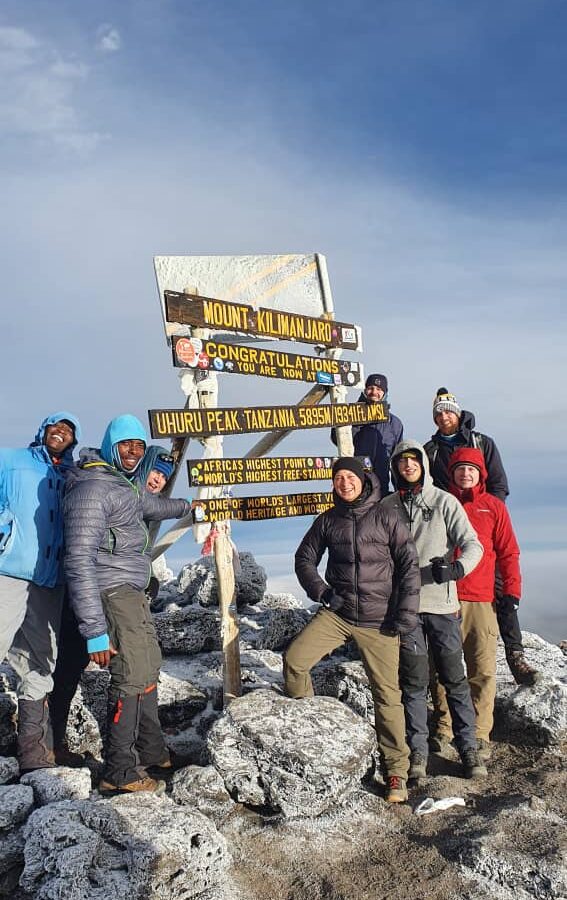 Dominik & friends, Germany
Kilimanjaro / Lemosho Route & Safari in January 2023
In January 2023, our group climbed Kilimanjaro via the Lemosho Route, after which we were on safari for another 4 days.
Before booking the decision for Ilona and Jambo Kilimanjaro was very easy for us, because she answered all conceivable questions in advance and adapted the offer again and again so that we booked in the end. Even in the following months before the trip, you could always turn to Ilona and got competent answers very quickly. So our trip was an unforgettable adventure and we can fully recommend Jambo Kilimanjaro.
Laura & Fabian, Switzerland
Safari in July 2022
There is a huge number of websites with offers for safaris in Tanzania. After a few inquiries we came across Jambo Kilimanjaro and were thrilled by the personal and fast communication. Since the price was also very appealing compared to other providers, we decided to go on safari with Jambo Kilimanjaro through four different national parks: Lake Manyara, Serengeti, Ngorongoro and Tarangire.
We met our guide Mohamed for the first time one day before departure in our hotel, for the briefing. He was from A to Z extremely friendly, courteous, unobtrusive, humorous and respectful. Since we had booked a private safari, he was able to respond to all our wishes and arrange the days according to our ideas. Mostly, however, we left the daily plan to him, after all, he is the expert with many years of experience. The result: We experienced six unforgettable days with countless animal sightings (we did not dare to dream before starting the trip that we would see so many animals so close!) and a wonderful diversity of the environment in the various national parks. Again and again we were fascinated where Mohamed pointed out animals which we would never have seen without him. His knowledge about the animals and their habits is huge and he had an answer to almost all our questions. We were also allowed to ask him some personal questions and through his stories we got an exciting insight into the living conditions of the people in Tanzania.
We stayed in lodges and tented camps. We experienced the accommodations somewhat differently. Of course, with different prices, different standards are to be expected. We were thrilled with the Acacia Luxury Camp, in the middle of the Seronera! When you wake up and a herd of zebras is standing a few meters in front of your tent, it's really something special.
Our conclusion: The organization by Jambo Kilimanjaro was uncomplicated and kept what was promised. We never had to worry that something would not work. The punctuality and commitment met Swiss standards. We recommend Jambo Kilimanjaro without reservation and say thank you!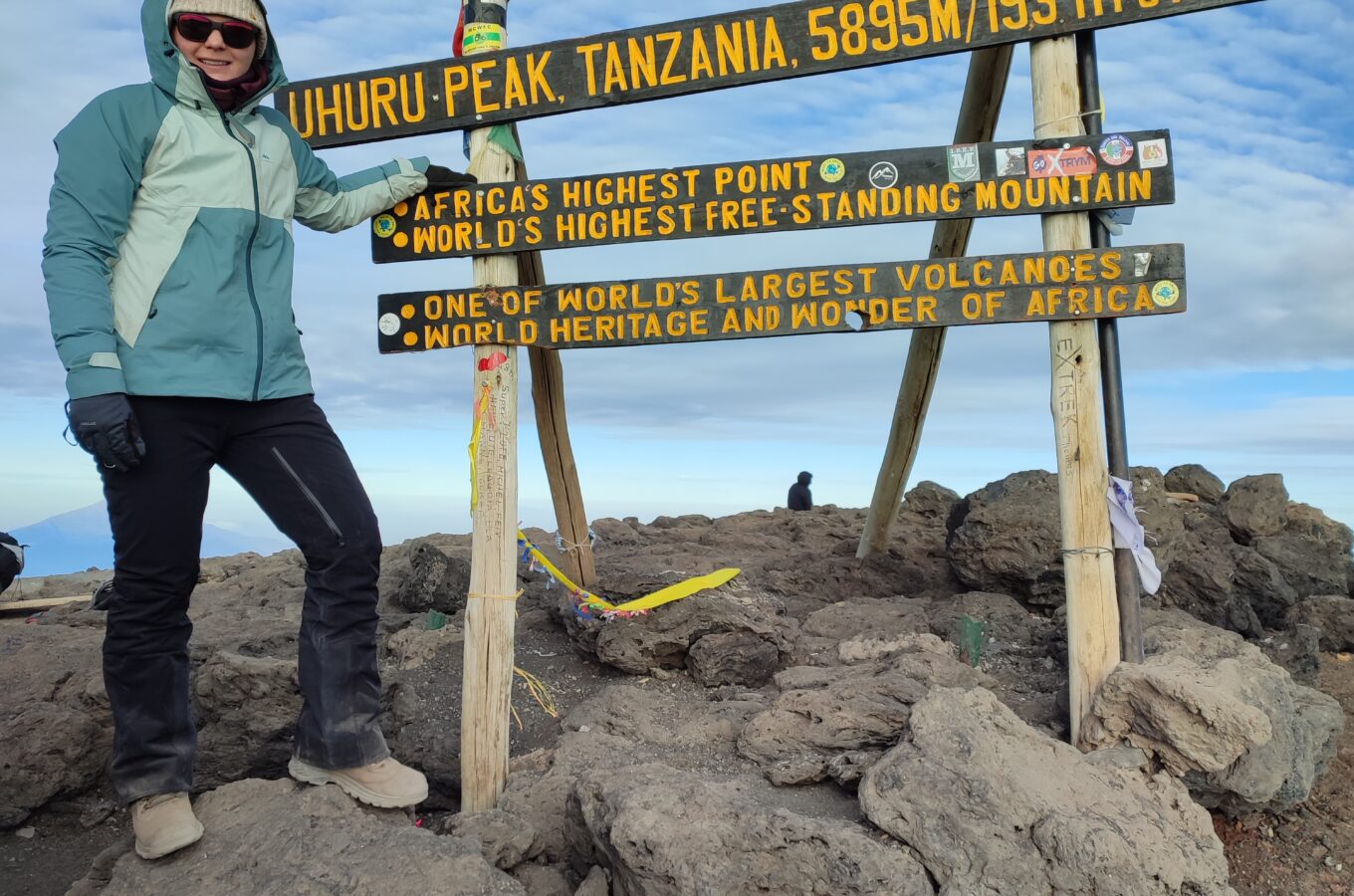 Fanny, France
Kilimanjaro/ Lemosho in October 2022
First of all, I am very satisfied with the service of Jambo Kilimanjaro. I had a good contact right away and someone was always available to answer my questions quickly.
Secondly, climbing Kilimanjaro was an incredible experience for me, both physically and as a person. I pushed myself and never thought I would be capable of such an adventure. The team was great, they took care of us and were always there to help us, push us and take us to the end. I admired the strength and courage of the porters and guides, whose work is physically demanding (sometimes even dangerous!). The food, whether at altitude or in the hotel, was very good, we ate very (even too much ahah) well, special mention to the cook. As for the tent, it was more than enough for me, the equipment was of good quality, I didn't get cold with the sleeping bag. The only thing was my walking sticks which were difficult to handle to put them at the right size (I had to ask the guide to help me). As for the hotel, what a charming nugget! The staff were very welcoming and warm, it was a real pleasure!
All in all, I am very satisfied with this trip. So a big thank you to Jambo Kilimanjaro, to your team and to the team that accompanied us there.
Ina & family (8 persons), Germany
Kilimanjaro/ Lemosho Route in June 2022
Now our beautiful trip is over, I would like to thank you very much for all the information and pleasant communication! Most of our family, and most importantly, my dad, reached the summit and it was an extremely interesting and beautiful experience regardless.
Our entire team was amazing and I would like to give a huge praise to our guides, our cook and also our waiter! The food David cooked is incredibly good and we wondered every day how he could do it with the limited resources in his small tent. On the last evening we even got two cakes: a birthday cake for dad and an engagement cake, as there was a little surprise waiting for me at the summit. The service we enjoyed was really exceptional. We were also very satisfied with each of our guides! Albert was very keen to get Dad to the finish, which he did with a lot of patience. Matthaio is an extremely polite, good and smart guide who always gave us correct and detailed information and made us feel very safe. All in all, an exhausting but wonderful experience!
Finally, a huge thank you again. We can all highly recommend the whole team and the organisation!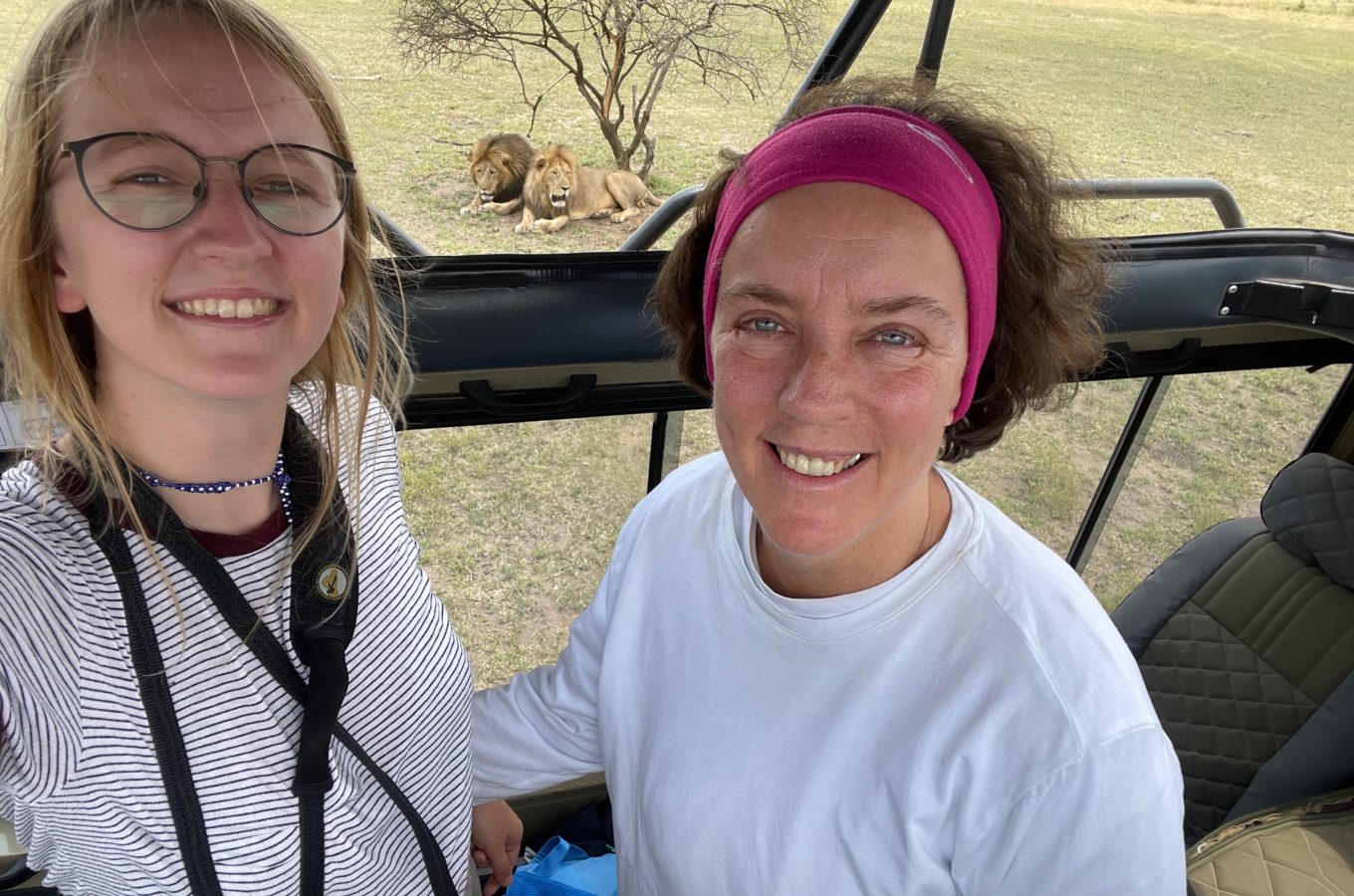 Dina & daughter Clara (Germany)
Mount Meru & Safari in September 2021
My daughter Clara was in Moshi for a month for a clinical traineeship. This led to the idea that I would pick her up, if possible in spite of Corona, and we would spend another 2 weeks together in Tanzania. Already in Tanzania and after considering the Corona situation, she looked around on the internet for travel agencies, and that's how we found you.
And from the first contact, we were both thrilled by your friendly and very fast communication.
We wanted to hike Mount Meru and then go on safari. You put together a wonderful package for us in the shortest possible time and responded promptly to our requests for changes.
After 2 days in Moshi, our journey began with Jambo Kilimanjaro:
We were briefed by our guide Naf for the hike and taken to Meru View Lodge. The next morning we started, we climbed for 2 days and on the 3rd day we only climbed up to Little Meru for sunrise, as we wanted to descend completely on the same day. We were rewarded with a fantastic sunrise next to Kilimanjaro and "alpenglow" on Mount Meru. We were the only guests at both huts. The huts are simple but completely ok. We had borrowed 2 sleeping bags, which kept us wonderfully warm.
Our cook spoiled us morning, noon and night.  Breakfast with porridge, crepes, omelette, bread, fruit, coffee, cocoa….
Our guide adapted to all our wishes and made these three days an unforgettable experience. At the end of the hike we were brought back to Meru View Lodge where we could deposit everything we didn't need for the hike.
The next day started early, we were picked up by Robert, our safari guide and driver.
With him we spent 5 days (and unfortunately far too short) exploring the breathtaking beauty of Tarangire, Lake Manyara, Serengeti and Ngorongoro National Parks…. in the Serengeti I made up my mind, I'll be back….
The lodges chosen by Jambo Kilimanjaro were all wonderful, Manyara Secrets was a dream, here too we were the only guests, the beautiful Embalakai Tented Camp, where we stayed for 2 nights, was surrounded at night by lions, hyenas and buffaloes…
The organisation by Jambo Kilimanjaro was perfect, we were very happy with our two guides, there were no difficulties during the trip: we could completely let go and enjoy! Thank you very much for that! We can recommend you at all!
Beate & son Christoph(Germany)
Mount Meru, Kilimanjaro and Safari in August 2021
We booked a three-part trip to Tanzania at short notice with Jambo Kilimanjaro, the highlight of which was to be the ascent of Mount Kilimanjaro. First we experienced a varied and exciting tour up Mount Meru. On the ascent, we were thrilled by the many animals, including buffalo and giraffes, which the accompanying ranger took us closer to in a kind of "walking safari". We were able to reach the summit despite heavy rain during the night, which postponed the start by 3 hours. A fantastic sunrise, with the sun rising directly behind Kilimanjaro, fascinated us as we climbed.
We also successfully climbed Kilimanjaro guided by our competent guides. On the varied Lemosho route, we first hiked around the mountain for better acclimatisation, saw glaciers illuminated by the moon and stars at night, and then stood on the summit on day 6 in glorious weather.
Throughout the trek, the entire trekking team took excellent care of us and looked after us. We really enjoyed the delicious food that our cook always conjured up from lots of fresh vegetables and fruit. We slept well in the comfortable tent and found the warm water that our waiter brought us for washing a luxury on the mountain.
All in all, we gathered impressions that will last a lifetime.
The Corona rules were always observed by the entire team – we felt safe here too.
The subsequent safari rounded off the trip, our guide showed us animals we would never have seen without him, e.g. leopards on a tree.
I would like to thank Ilona and the Tanzanian partner for the very good organisation of our holiday. Everything went smoothly and we were able to spend a wonderful, eventful holiday.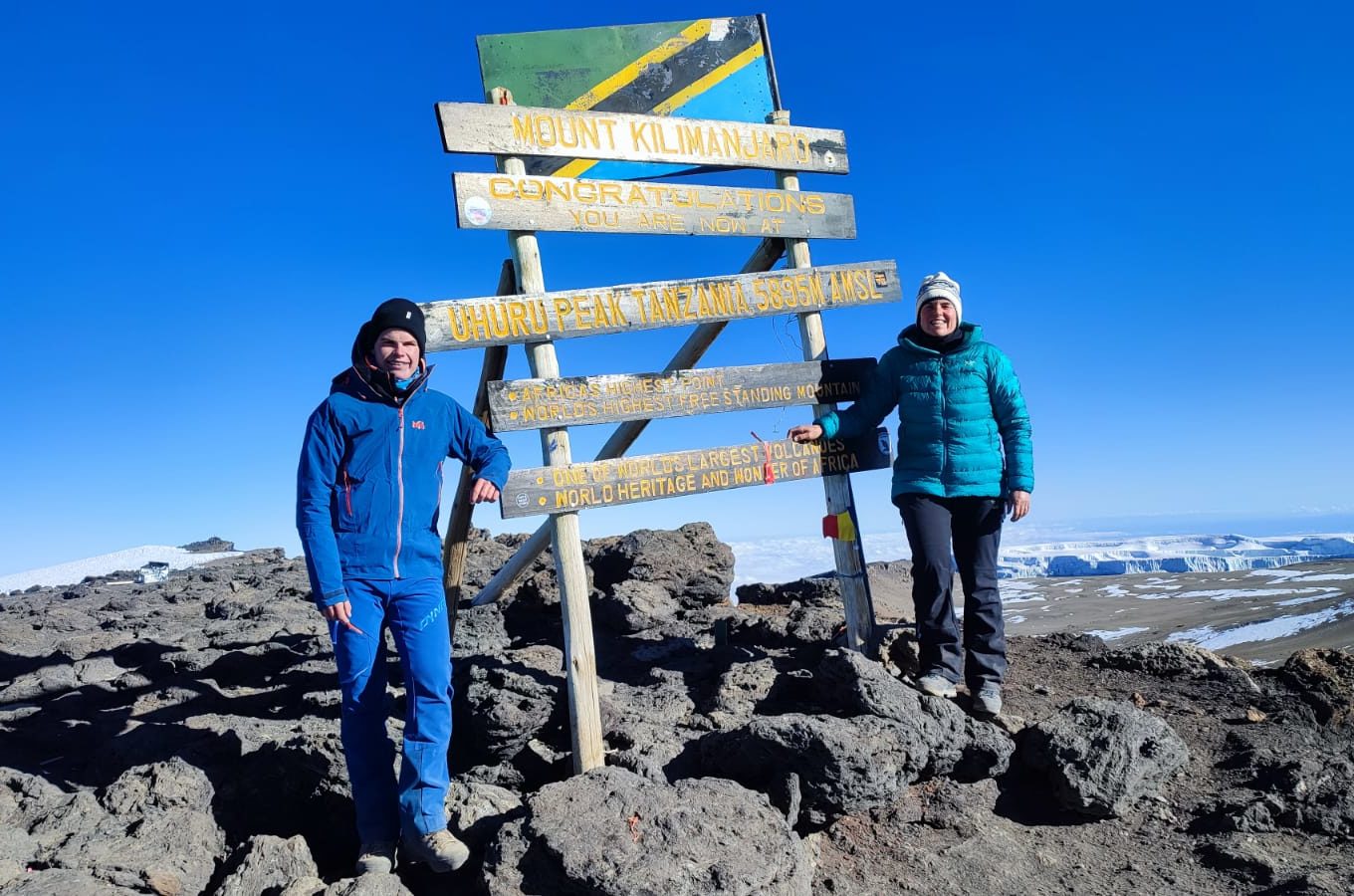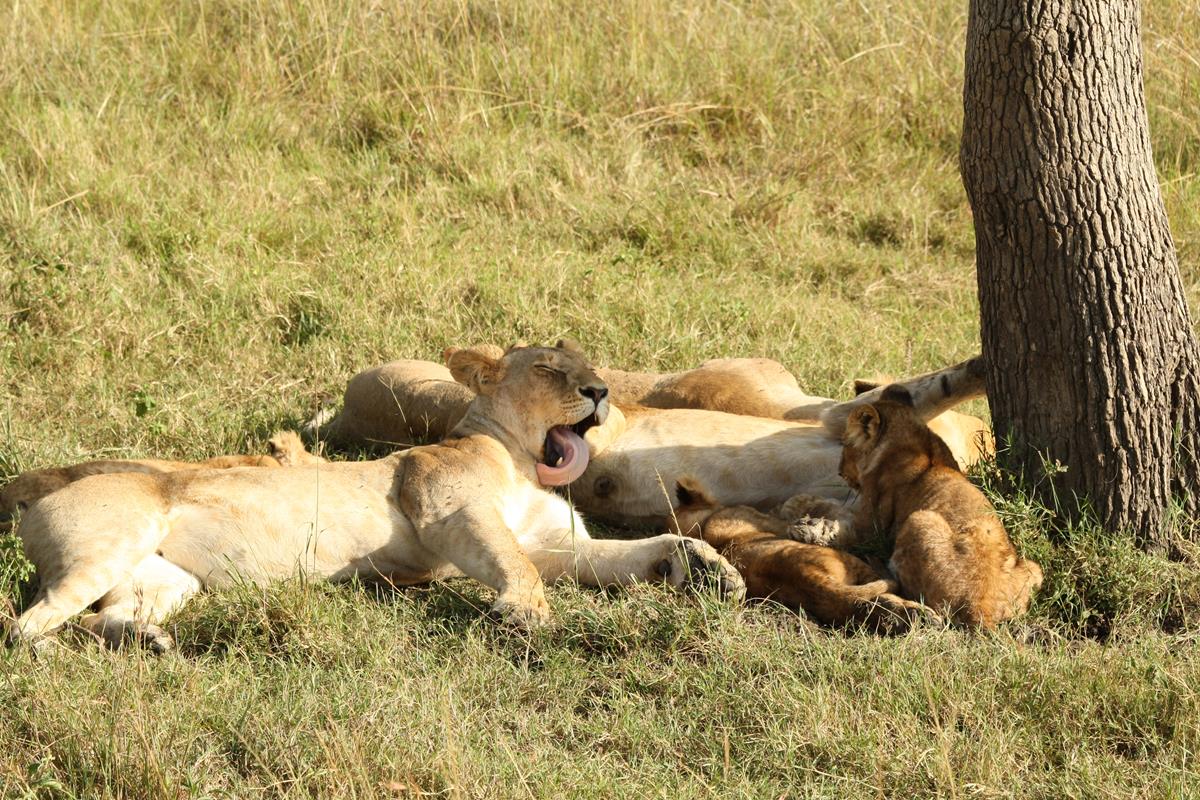 Christoph & Katrin, Österreich
Safari in August 2021
We enjoyed the safari very much – it was really impressive and a great experience! The organisation per se was top. Of course, the diversity and how close you can get to the animals was particularly impressive. The lodges and catering were perfect and everyone was friendly and helpful. Some of the places were really cool, right in the National Parks Tarangire, Serengeti and Ngorongoro Crater.
Ophélie & Loan, France
Safari
Wonderful safari spent with the Jambo Kilimanjaro team! Robert, our driver, was very professional, listening but also shared his knowledge about animals with us. We learned a lot. The organisation was top notch, whether it was the transfers, the lodges, the food during the safaris, and so on. I highly recommend it!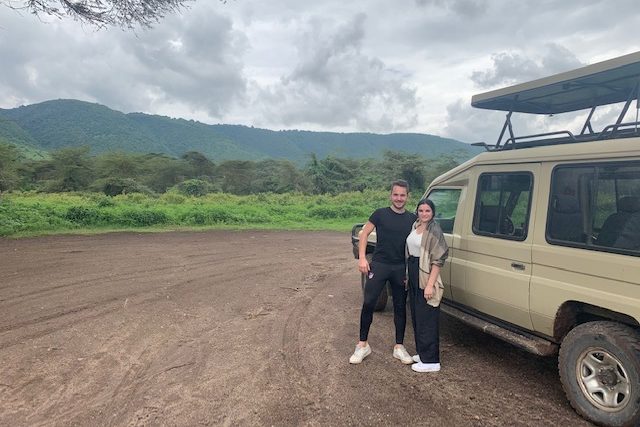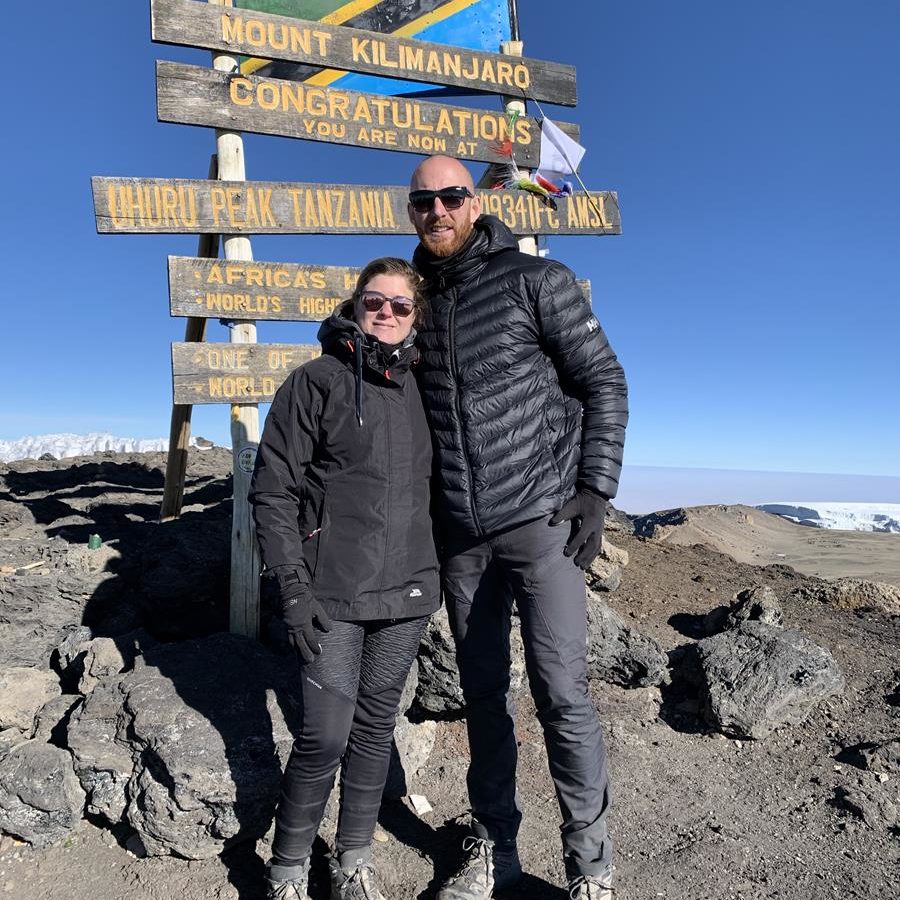 Alicia & Rémy, France/ UK
Kilimanjaro / Lemosho Route in 8 days & Safari
We climbed Kilimanjaro in 8 days via the Lemosho route. The teams are very professional and take great care in order to allow us to reach the summit safely. The camp is very comfortable and the food is delicious, the pancakes for breakfast were to die for!
The last night was very difficult because of the cold and lack of oxygen but thanks to the support of the guides we made it. The sunrise on the glaciers is a memory I will never forget.
We then went on a 5 day safari to Tarangire, Serengeti and the Ngorongoro crater. Our driver had an impressive knowledge of wildlife and we would have been unable to locate the animals without him. We were amazed and even witnessed the lioness hunt. The hotel staff were very kind and attentive.
A faultless performance by Jambo Kilimanjaro & Team!
Maria & Daniele, Switzerland
Kilimanjaro and Safari
We decided at relatively short term to spend our honeymoon in Tanzania. And we have not regretted for a single second having chosen Jambo Kilimanjaro as our organisational partner for this project.
Ilona reacted very flexibly and quickly to all our wishes, gave us very good advice in advance and provided all the necessary information. Also during the trip she was always available and helpful for questions and requests of a personal nature – which is not at all self-evident.
Both the summit climb to Kilimanjaro and the Safari in Ngorongoro, Tarangire and Lake Manyara were unique and wonderful experiences that we will remember for a lifetime. The professional and friendly guides on site, the smooth transfer and the romantically decorated lodges left nothing to be desired.
At this point we would like to thank you again for making our dream holiday come true.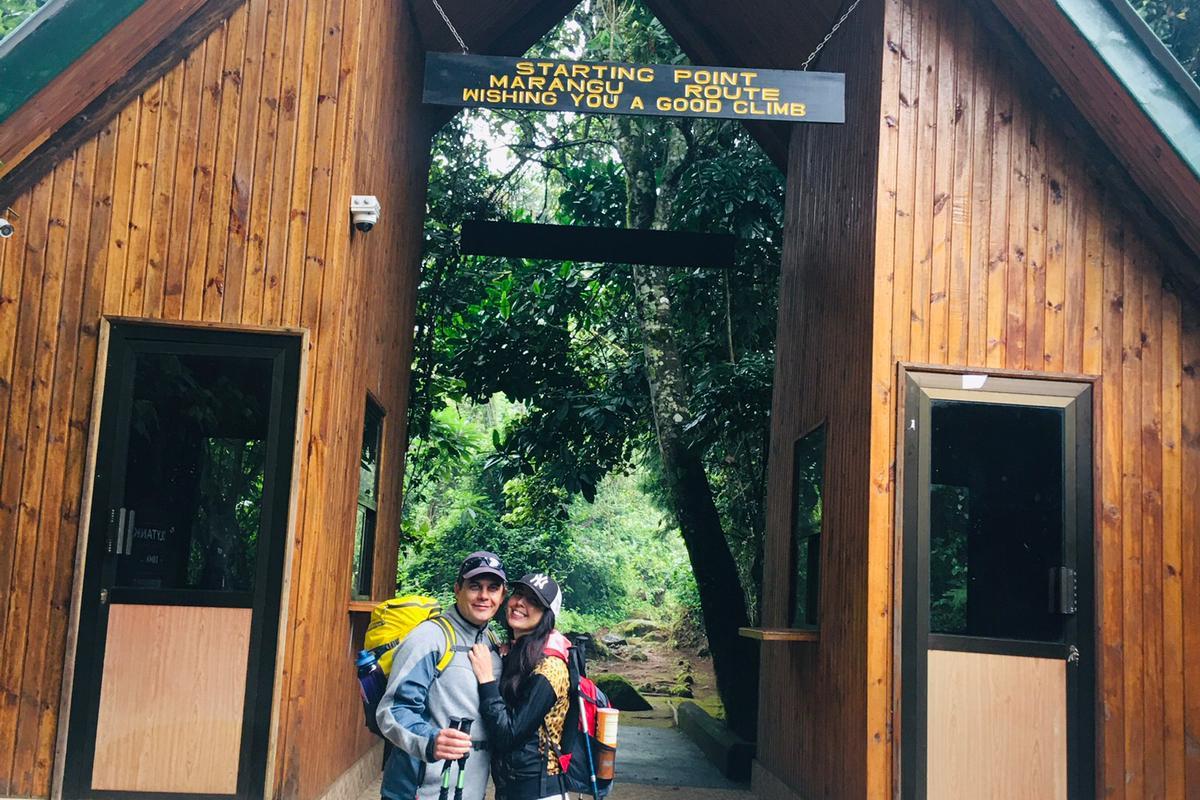 Barbara & Nathalie, Switzerland
Kilimanjaro / Lemosho Route in 8 days & Safari
Dear Ilona! I can ONLY express myself positively – from A – Z everything was perfectly organised, we met lovely people on site – John and Francis accompanied and motivated us on this trek (more than trek – it was a dream). We could reach Uhuru Peak on 31.08.2020, the almost full moon was also present and showed us the way. The food (an important factor!) was excellent, who would have thought that we would taste cucumber soup and fresh watermelons?
"Thanks" Corona times we were about 15 people at the "summit"!
With Mtoo (guide) and Elicante (cook) we were allowed to explore the vastness of the Serengeti, Ngorongoro (we did not know it before, amazing!) Lake Manyara and Taranguire. Mtoo knows the Serengeti like the back of his hand – again and again he surprised us how he could spot animals. Also the 3 hours we spent to experience the wildebeest migration (was our wish) was worth it, on the way back we met the Lion King at sunset with 3 lionesses – unforgettable! Elicante rounded off each day with its delicious dinners.
We are missing Tanzania! 😊
Dan & Joe, USA
Kilimanjaro
I am glad I chose Jambo Kilimanjaro as the tour operator for our trip to Tanzania. From getting off the plane to reaching Uhuru Peak everything was perfect! (Dan)
I had an incredible experience hiking Kilimanjaro thanks to Jambo Kilimanjaro! They organized the entire trip and I wouldn't change a thing. We had a great team! (Joe)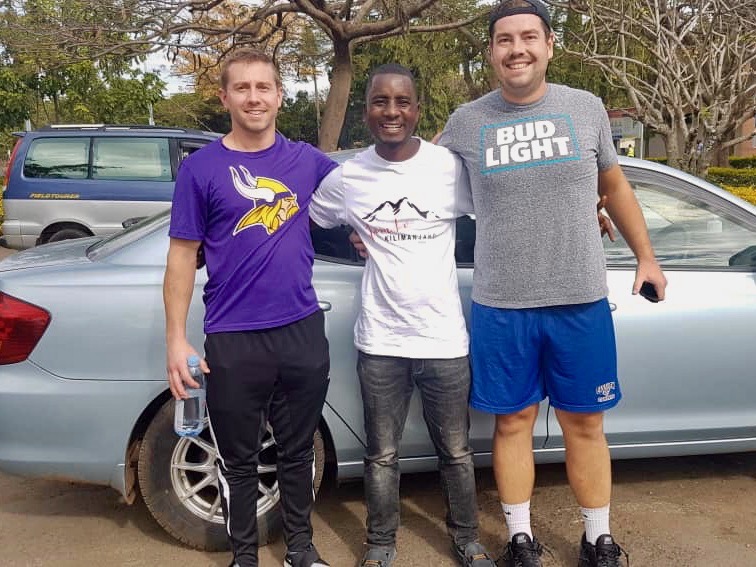 Eric, Hannelore & Joachim, Belgium
Kilimanjaro
I thought I had seen the most beautiful sunset and especially night sky (the milky way) in the Namibian desert, but the sunrise on the Kilimanjaro is something quite extra-ordinary, because the mountain stands alone, offering a truly magnificent panorama. Also the fact that we were standing slightly above the beginning of the glacier(s) (or what remains of them) contributed to the breath-taking view – at your feet is a slope in black lava stone on which a wall of ice arises a few hundred meters further down. It was so strange, I really didn't expect it to be so beautiful.
To summarize, it was a unique experience, a great hike on a magnificent mountain with a very friendly and supportive team. If asked, I would do it again, without any hesitation.
Alice, Annette, Marc & Didier, France
Kilimanjaro
Very nice adventure, very nice guides and good organization. Jambo Kilimanjaro has made our dream come true with unforgettable memories!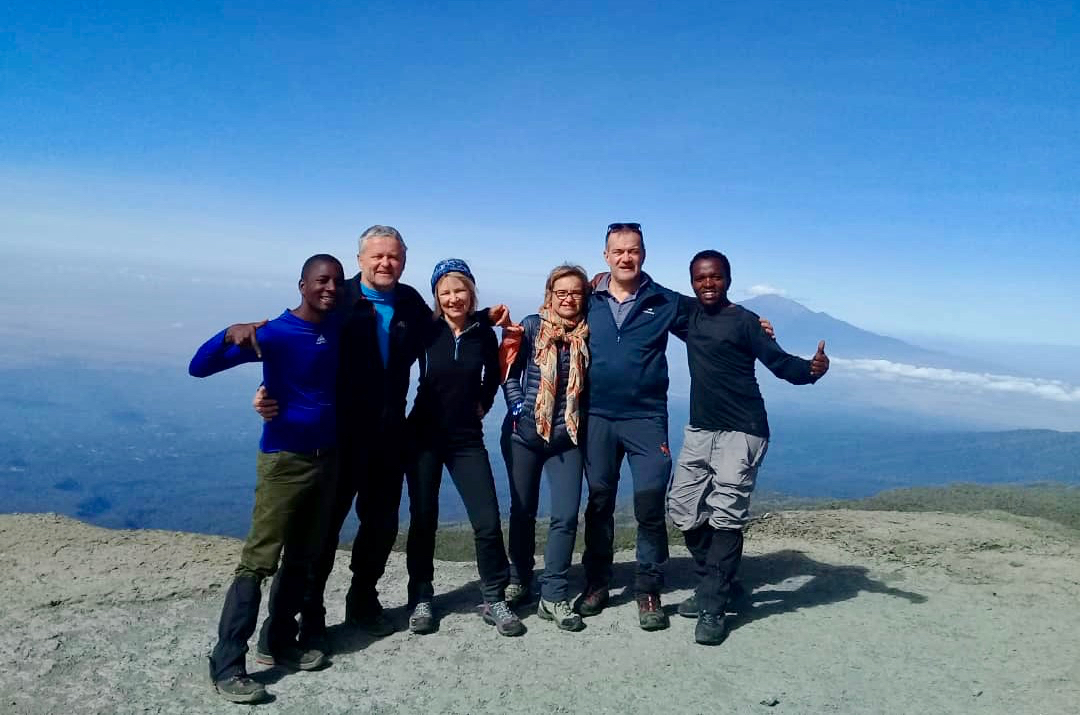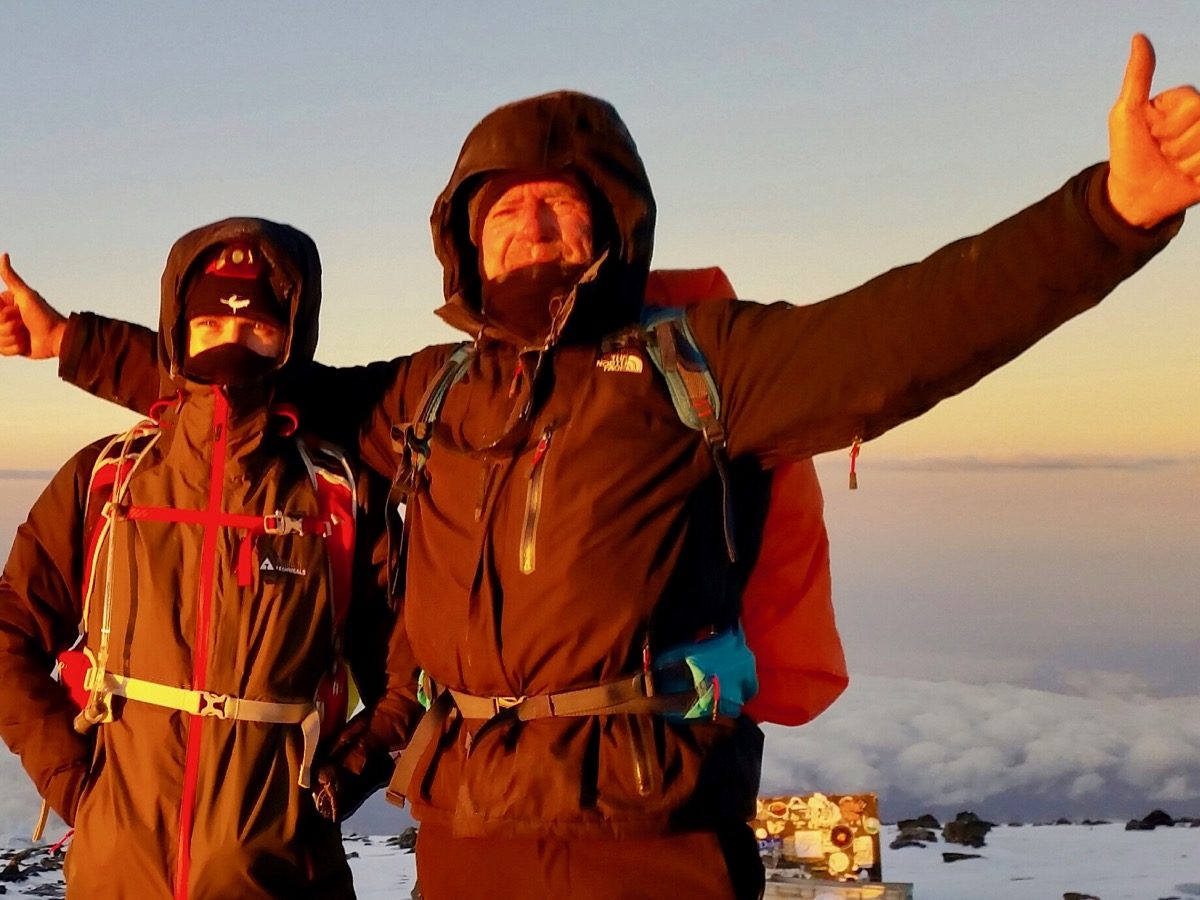 Dominique & Gottfried, Italy
Kilimanjaro
Many thanks for the great organisation, JAMBO KILIMANJARO and we can recommend you 100 %. It was hard and we were at the limit. Super team and organized!
Aurélien & David, France
Kilimanjaro & Safari
A wonderful and unforgettable journey and ascent of Kilimanjaro! We chose the Machame route in 7 days for the diversity of the landscapes and we were not disappointed. The landscapes are varied and magnificent. The acclimatization went very well. The first 2 days we were able to walk at a good pace, then the following days "pole pole" to the summit. The day before the final ascent, at Barafu Camp, we tried to take a nap in the afternoon, then ate around 6pm, before sleeping a little before the ascent, starting at 1am. We arrived at the summit around 6:45 am, under a freezing cold, but with lots of emotions. Everything was also perfect in terms of accommodation, transport, catering, and the safaris, with helpful, dedicated and friendly people every time. I was pleasantly surprised by the good organization of the trek, the efficiency of the porters, the quality of the cook and the good advice of the guides Erasto and Amos, all in a friendly atmosphere.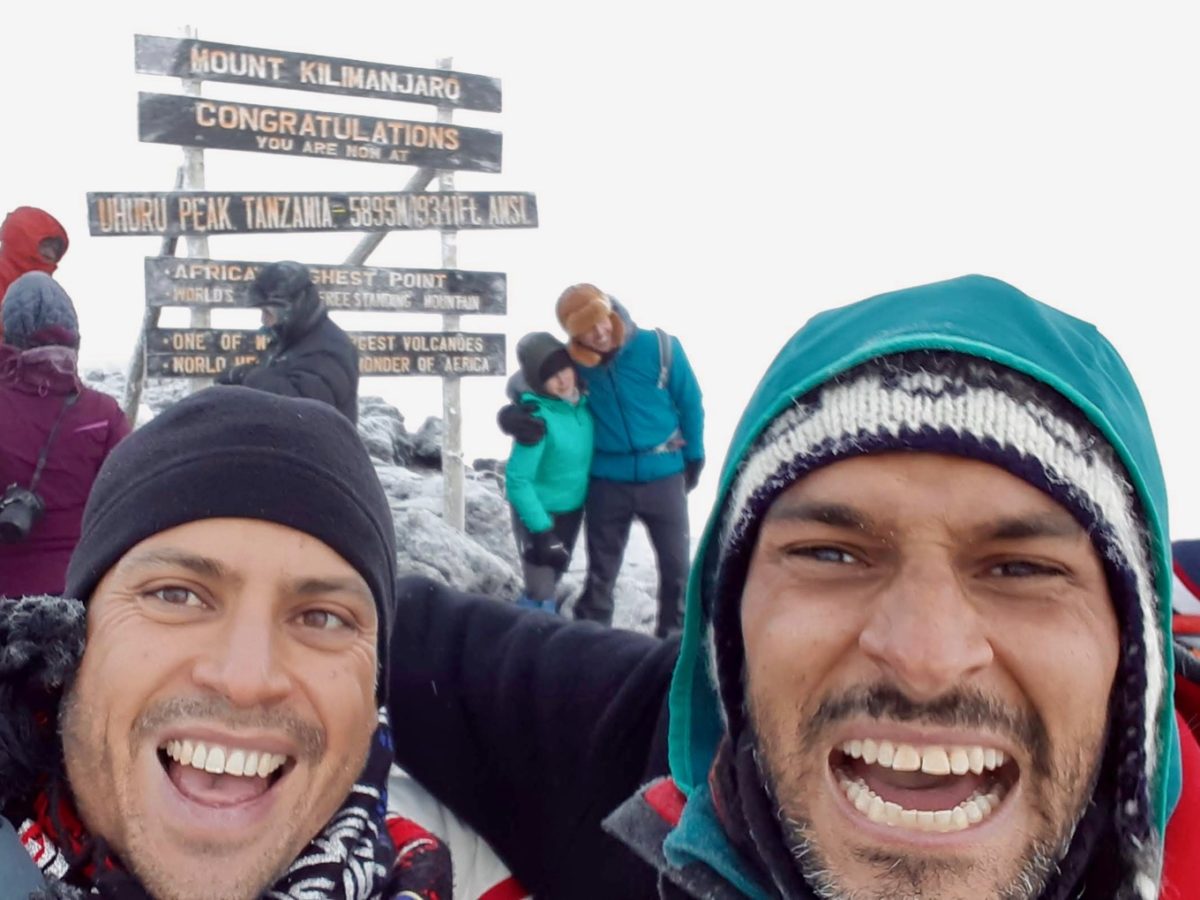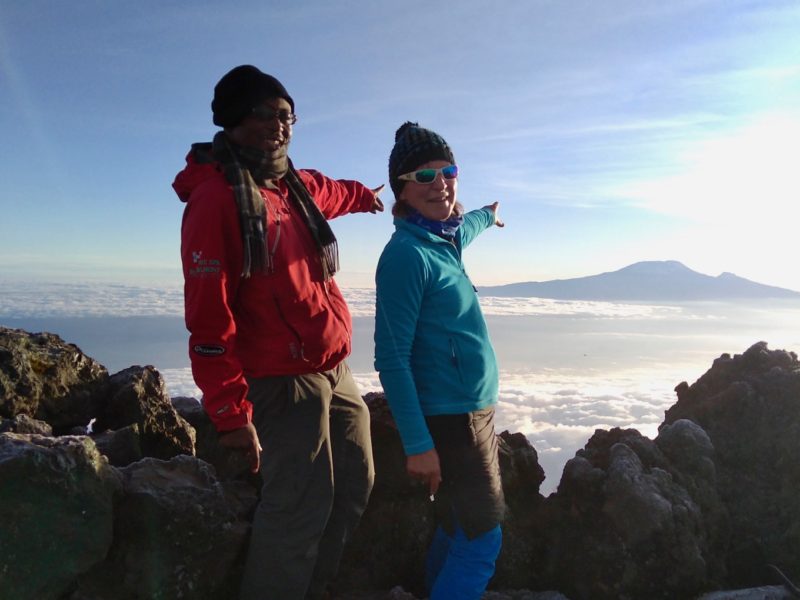 Simone, Germany
Mount Meru & Kilimanjaro
I first climbed Mt. Meru alone and then Kilimanjaro via Machame Route together with a French woman. During both treks I always felt safe, well looked after and taken care of. I had a great experience with Jambo Kilimanjaro and the whole team during the two weeks. Everyone was so welcoming, caring and nice – even travelling alone as a woman was absolutely no problem. I was also very impressed that our cook prepared the tastiest dishes for us every day with only simple means. Ambureni Coffee Lodge in Arusha is a wonderful place to stay and chill before and after the tour – I enjoyed the peaceful atmosphere and delicious food there so much – and felt right at home. When I come back to Tanzania, I will definitely go on tour again with Erasto and Amos, because we had a lot of fun together.
Valentine, France
Kilimanjaro
Twice I had the great pleasure of pacing the paths of Kilimanjaro with Erasto as a guide; twice I have lived unique and authentic experiences. Erasto does its utmost to satisfy his customers and create an unforgettable adventure. Nothing is left to chance. Due to his great knowledge of the mountain paths, Erasto constantly led us on the right trails. My experience with him is 100% a success and I recommend anyone to part on this journey with him.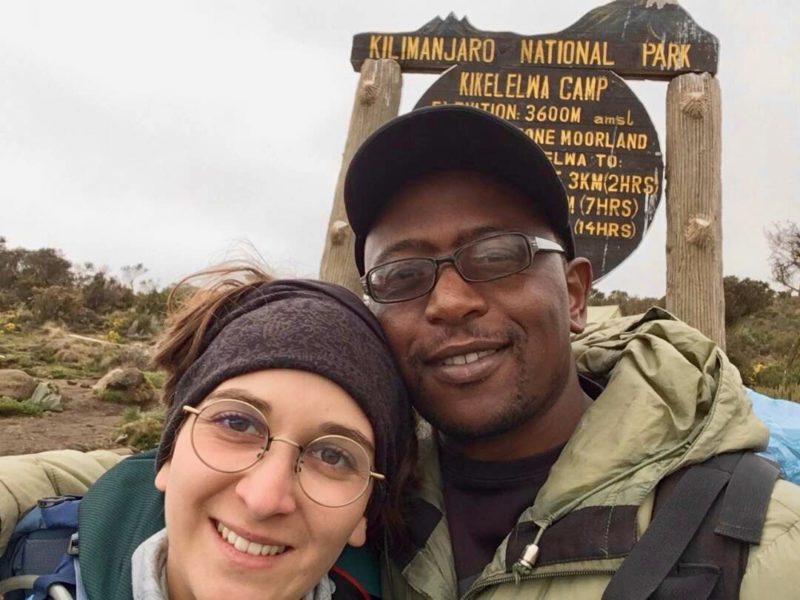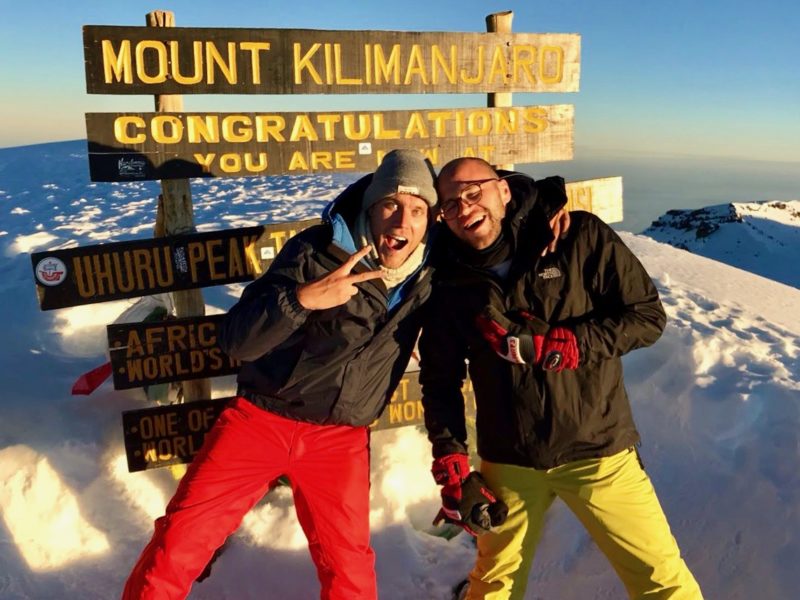 Christopher & Moritz, Germany
Kilimanjaro & Safari
My brother Moritz (26) and I (30) had the chance to climb the summit of Kilimanjaro with Amos as our guide at the end of May 2018. Amos was a great leader from the beginning, expert and ultimately friend of our small group. He made every effort to read all wishes from the eyes, took care even of the smallest issue immediately, and always had the goal to afford us an unforgettable time. In addition to the one week with him on Machame Route, we also went on a safari in the Serengeti and the Ngorongoro National Park with him. During that time, he took great care of us as well. I can definitely say that Amos has become a good friend and is definitely the "one and only guide" who I can warmly recommend to anyone. Together with his perfectly harmonizing team of cooks, porters, drivers, etc., we had two unforgettable weeks in Tanzania. Thanks a lot for this!
We plan each trip individually, according to your wishes. Send us your request online free of charge and without obligation. We will contact you with a personal offer.