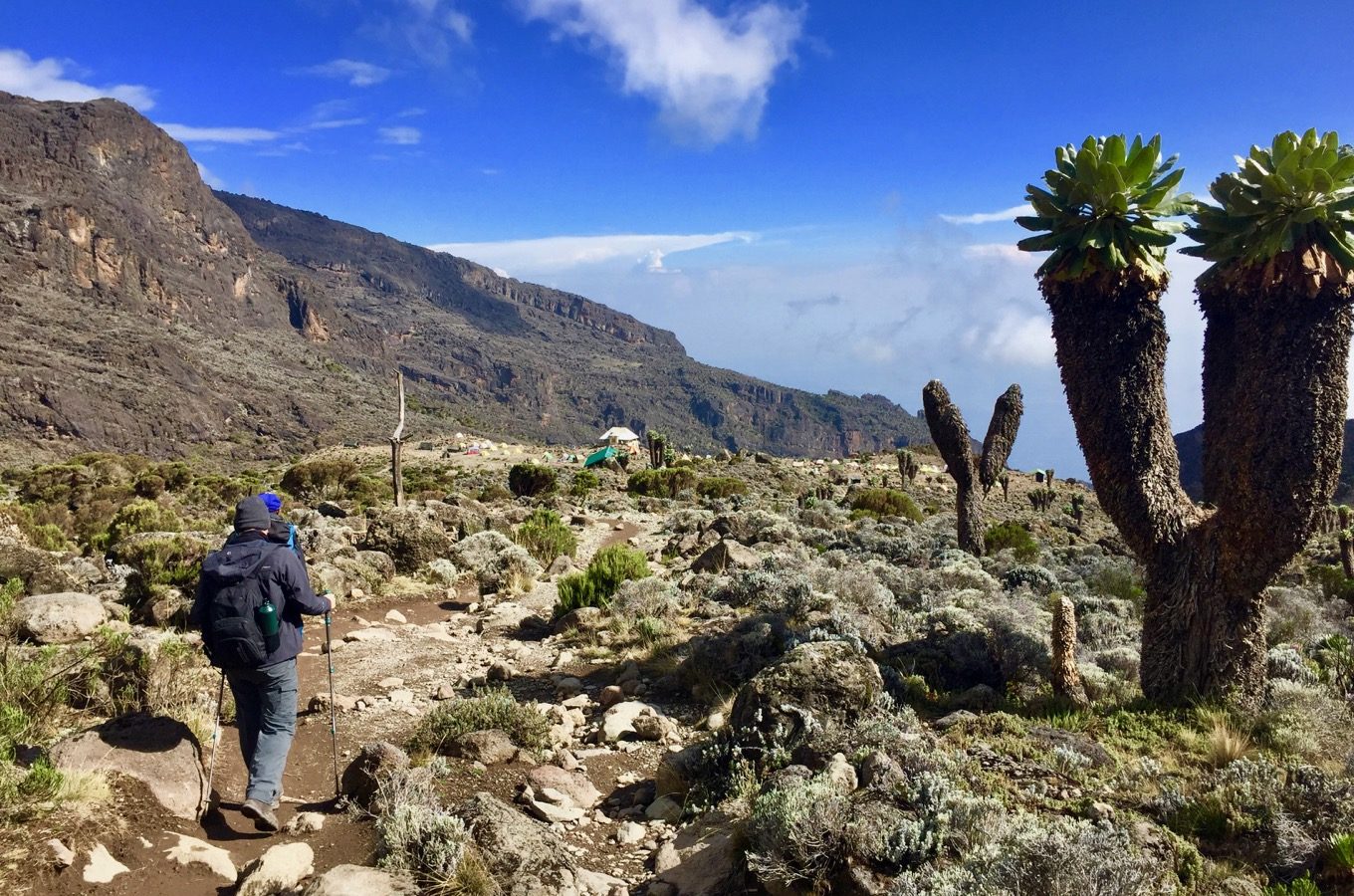 Via Machame Route to the top of Kilimanjaro
Machame Route, also called "Whiskey Route", is one of the most scenic and varied routes up to Uhuru Peak and is therefore very popular.
7-day ascent of Mount Kilimanjaro
Due to its altitude profile, the scenically very varied Machame Route offers good possibilities to adapt to the altitude. Thus, the chances of a successfully reaching the top of Kilimanjaro are above average. You will spend a total of 9 days in Tanzania, respectively.
With us you can book Machame Route starting at 2,088 USD per person. For an individual offer simply send us your request.
Charming landscape with great views
Along Machame Route you have excellent views of the country and the neighboring mountains. It is one of the most popular routes, but in comparison to other routes it is a bit more strenuous to walk and sometimes contains steeper rocky passages.
You take different routes for ascent and descent. On the campsites along the route you sleep in tents. All campsites are in direct radio contact with the management of the national park. The number of visitors on this route is moderate.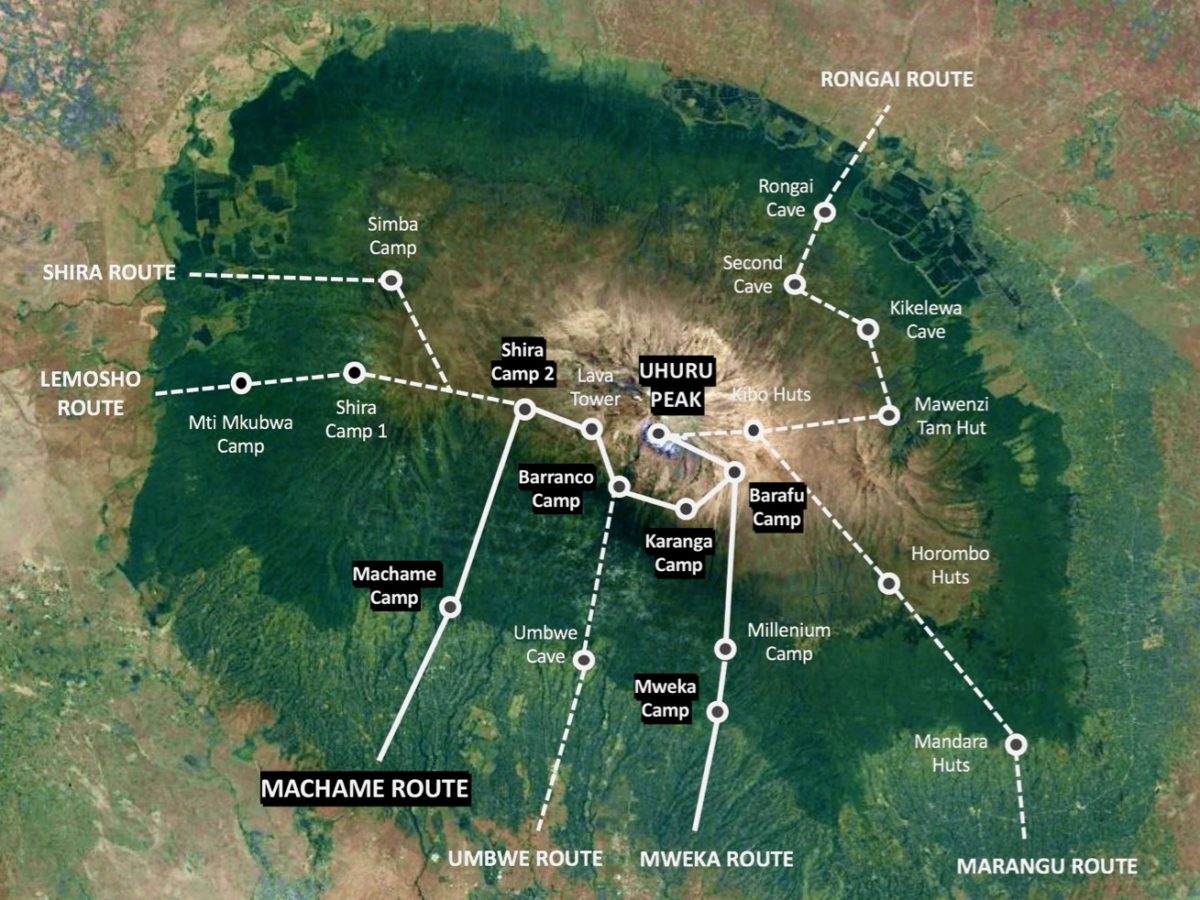 Our travel proposal
Day 1: Kilimanjaro Airport – Moshi
Welcome to Tanzania! Upon arrival at Kilimanjaro International Airport, you will be welcomed by your driver. Together you drive in the direction of Moshi (about 60 minutes drive). You are already expected at Chanya Lodge, which is located in a quiet area close to the centre of the small town. Upon arrival at the lodge, a detailed briefing and equipment check will be held, i.e. you get important information for climbing Kilimanjaro during the upcoming days. The afternoon is at your free disposal and can be used, for example, to explore the place or relax by the pool. Dinner takes place at the lodge, but can optionally be placed at another location (own organization necessary).
Day 2: Moshi – Machame Gate (1,790 m) – Machame Camp (2,835 m)
Hiking time: 5-6 h | Distance: approx. 9 km | Altitude difference: approx. 1,045 m ↑ | Effort: Moderat
After a big breakfast at your lodge, your guide picks you up. He checks the luggage once more before you drive together to Machame Gate, the southwestern entrance of Kilimanjaro National Park. Luggage not required during the climb can be stored at the lodge free of charge. For an overview of the topic "luggage on Mount Kilimanjaro" look here or here. After an hour's drive, you will reach Machame Gate. There, final preparations are made, such as baggage loading and registration in the national park, before you start the first leg of your hike. At the beginning you walk on paths through dense rainforest. You will discover a variety of plant species and, if you are lucky, see colobus monkeys high up in the canopy. During the hike you take short breaks from time to time. After about 2-3 hours you pause for a little longer for your lunch break. Shortly before arriving at Machame Camp, the dense rainforest begins to thin out, and you reach the beginning of the moorland.
After about 5-6 hours on foot you finally reach the first camp of your trip, the Machame Camp, in the late afternoon. The remaining time until dinner is at your free disposal. After dinner, your guide will give you tips regarding clothing for the night as well as regarding clothes to wear and day luggage to pack for the day ahead. At around 9 pm the first day at Kilimanjaro ends and you spend the first night in tents. For a detailed report on the hike along Machame Route just have a look here.
Day 3: Machame Camp (2,835 m) – Shira Camp (3,750 m)
Hiking time: 5-6 h | Distance: approx. 7 km | Altitude difference: approx. 915 m ↑ | Effort: Increased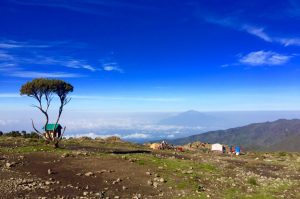 Your day begins with a big breakfast, weather permitting, outside your tent. At 8:30 to 9:00 am, your hike will start in the direction of Shira Camp. After a short while you leave the rainforest and tall trees completely behind you. In clear weather you have great views. During the hike you will take shorter breaks and lunch will take place during the stage. After your arrival at Shira Camp, there will be an afternoon snack. From the camp you can see Mount Shira and, with a bit of luck, Mount Meru. Depending on your constitution, you walk a few meters higher on the same day to better adjust to the altitude. If the weather is nice you will see an impressive sunset. After dinner you spend the second night on the mountain in tents.
Day 4: Shira Camp (3,750 m) – Barranco Camp (3,900 m)
Hiking time: 6-7 h | Distance: approx. 10 km | Altitude difference: approx. 850 m ↑ and 700 m ↓ | Effort: Increased
This day serves as an acclimatization day. After breakfast, the path leads steadily uphill for a long time. By now you have arrived in the stone desert. You walk up to Lava Tower at 4,600 meters where you have lunch. Right after, you start your decent over scree and stone, which is initially quite steep. Shortly before reaching Barranco Camp you have great views of the southern glaciers of Kibo. The path is lined with centuries-old crested trees (Senecia) and lobelia. In the afternoon, you will reach the camp where your mountain team will be waiting for you with tea, coffee and snacks. After dinner, your guide will give you the daily briefing for the coming night and the following day. At Barranco Camp, you spend your third night in tents.
Day 5: Barranco Camp (3,900 m) – Karanga Camp (3,995 m)
Hiking time: 3-4 h | Distance: approx. 4 km | Altitude difference: approx. 200 m ↑ and 105 m ↓ | Effort: Moderat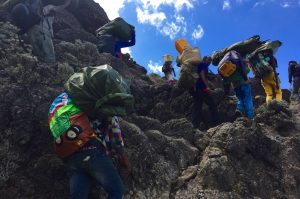 After breakfast, and soon after leaving the camp, a path leads up steeply the so-called Barranco Wall. Once you arrive at the top you have outstanding views. From there, the path continues along the southern slope of Kibo. Alpine arid landscape is characteristic for this region, and boulders of volcanic origin line the way. As before, you take short breaks every now and then. Shortly before reaching the next camp, the path leads several hundred meters downhill, and then back up again. After about 3 hours you will reach Karanga Camp. There you also have lunch. If you choose the 7-day hike, you spend the rest of the day and your fourth night in this camp. Otherwise, you continue the same day to Barafu Base Camp (due to the significantly better adaptation to the altitude, and thus higher chances of reaching the summit, however, we recommend the longer of the two tours).
Day 6: Karanga Camp (3,995 m) – Barafu Camp (4,675 m) 
Hiking time: 3-4 h | Distance: approx. 4 km | Altitude difference: approx. 680 m ↑ | Effort: Moderat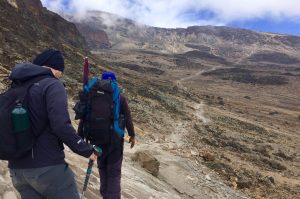 If you have chosen the longer of the two tours, you will begin your walk to Barafu Base Camp as usual after breakfast (otherwise you will only stop at Karanga Camp). As on the previous day, today's hike is shorter and only takes about 3-4 hours. The route runs, like the previous day, through alpine desert with light ups and downs. Only the last few meters before reaching Barafu Camp, you walk steeply uphill. You arrive at the base camp already around noon, and have the rest of the day at your free disposal (we recommend you take it easy and relax). In addition to lunch and afternoon snack, there is an early dinner, as your fifth night is very short and you start the summit climb in the middle of the night.
Day 7: Barafu Camp (4,675 m) – Uhuru Peak (5,895 m) – Mweka Camp (3,100 m) 
Hiking time: 11-13 h | Distance: approx. 19 km | Altitude difference: approx. 1,230 m ↑ and 2,800 m ↓ | Effort: High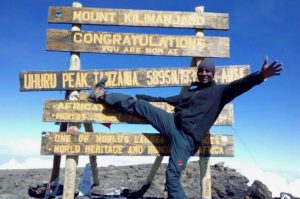 Here we go! At midnight, your trek up to the highest point of Africa, Uhuru Peak, begins. You zigzag your way through the darkness and cold, over scree and stone up the mountain. It is an impressive hike under great starry skies, provided the view is clear. After about 5 hours hike you reach Stella Point at an altitude of 5,756 meters. Depending on your speed, you'll see a glorious sunrise here or later at Uhuru Peak. From Stella Point it is only around another hour to walk along the crater rim until you reach the summit. Once there, you can admire the impressive glaciers of Kibo, and simply enjoy the view. You made it!
Then you return to the base camp. There you have breakfast and then continue your hike to the last camp of your journey. The path leads steadily downhill. The vegetation is becoming increasingly lush again. In the afternoon, you will reach Mweka Camp, where the mood among the travelers is usually good and relaxed, and you have time think about your impressive journey again. After dinner, you spend your sixth and last night at the campsite, surrounded by trees.
Day 8: Mweka Camp (3,100 m) – Mweka Gate (1,640 m) – Moshi
Hiking time: 2-3 h | Distance: approx. 10 km | Altitude difference: approx. 1,460 m ↓ | Effort: Low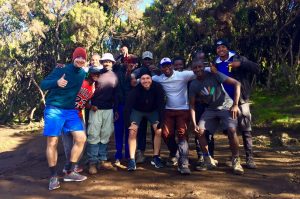 The last day of your hike starts with a relaxed breakfast. Today's leg to the exit of the national park is only a few hours long. Before departure from Mweka Camp, the traditional farewell ceremony takes place. You walk through the lush green, as on the first day, and take short breaks from time to time. Once you arrive at Mweka Gate, your summit certificate will be issued, and you say goodbye to the mountain and your team. On the way back to your lodge you can stop for lunch. Once you arrive back at your accommodation – enjoy the shower! The rest of the day is at your disposal. Celebrate it the way you want, you deserve it! You're spending the last night of your trip in your lodge in Moshi.
Day 9: Moshi – Kilimanjaro Airport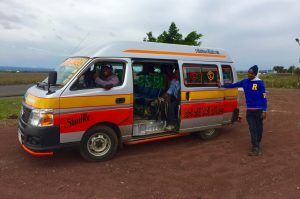 After a good night's sleep and a big breakfast, you check out of the lodge. If you have planned further activities, you continue your individual travel program accordingly. Alternatively, your driver will drive you to Kilimanjaro International Airport and you will start your journey home.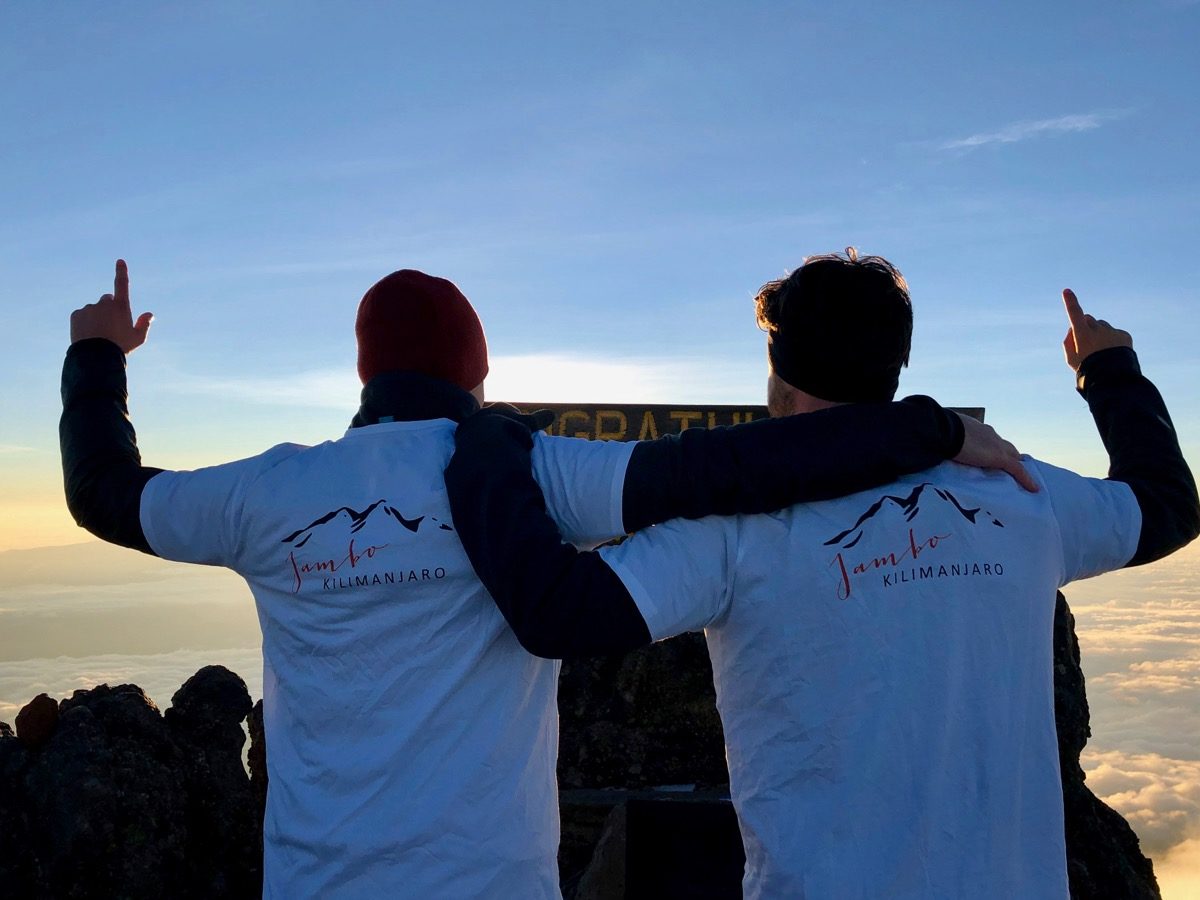 Our promise
Each of our trips is individually planned based on our experience and your wishes. Authentic and sustainable travel is especially important to us.
We therefore do not sell anything that we have not experienced ourselves and found to be good. We convince ourselves firsthand in order to make an unforgettable adventure in the heart of Africa possible for you.
Here you can see what our journey to the roof of Africa looked like.
The following services are included in the price:
Organization of the trip by Jambo Kilimanjaro
7 days Kilimanjaro ascent via Machame Route (alternatively 6 days tour possible)
8 nights (6 nights in tents / 2 nights at Chanya Lodge)
Half-board in the lodge, full-board during the Kilimanjaro ascent (more details can be found here)
Transfer from and to the airport
Transfer to and from the gate of Kilimanjaro National Park
All park and camp fees
Trained and certified guide (English speaking, German and French on request)
Trained cook and certified porters
Four season tent incl. sleeping mats
Complete kitchen equipment, dining tent, chairs and tables
First aid kit and emergency oxygen cylinder (per group)
Pulse oximeter for health checks
Safe luggage storage at Lodge while on trek
Execution of the trip in accordance with the specifications of the Kilimanjaro Porters Assistance Project (KPAP)
Optional extras available at a surcharge:
Sleepings bags for low temperatures
Foldable travel bed inc. porter
Portable toilet inc. toilet tent, toilet roll, cleaning chemicals and porter
Walking poles
Additional oxygen cylinder package
Overnight stay at Crater Camp
Additional clothes and equipment on request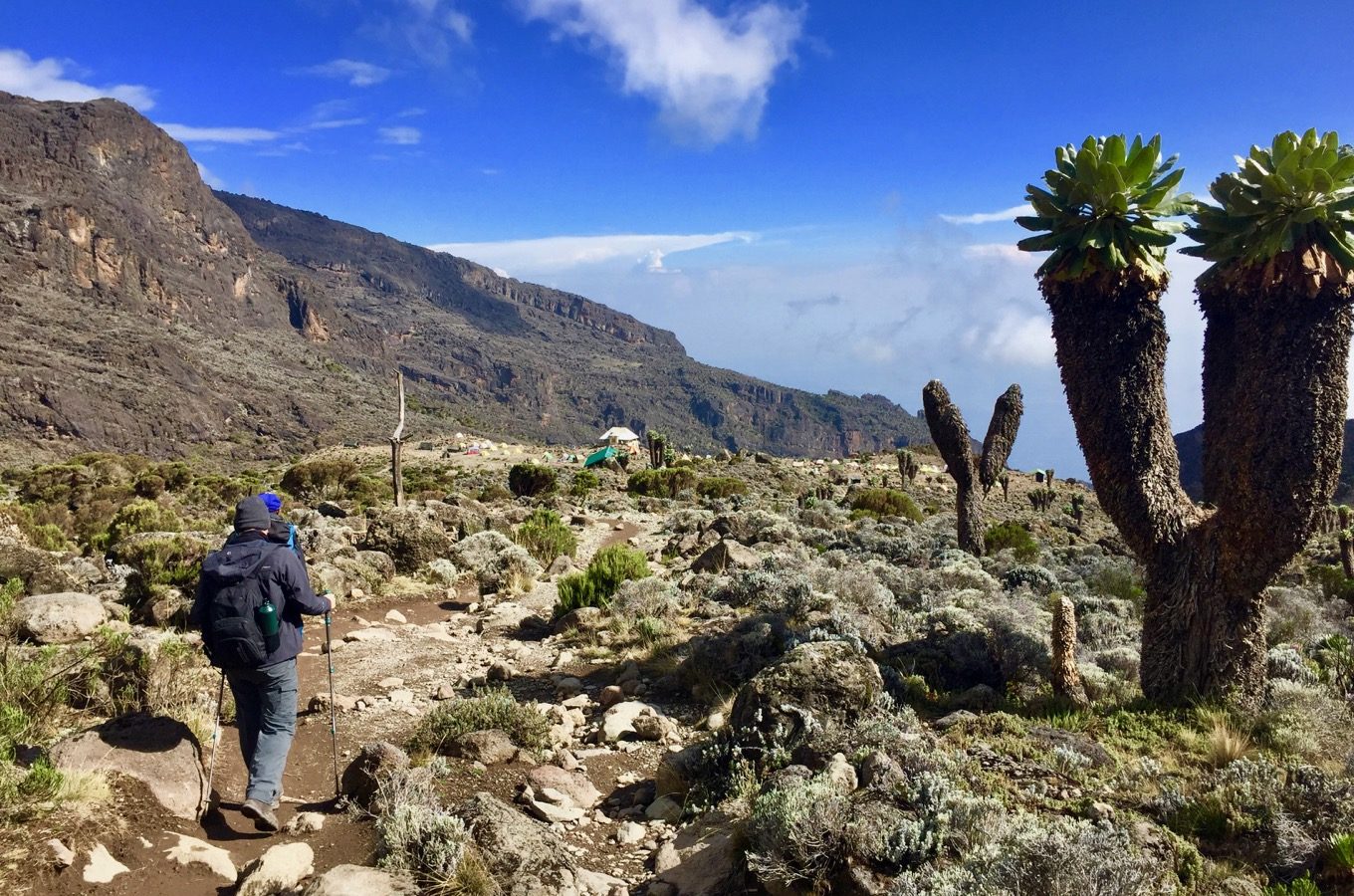 Send us your request
We plan each trip individually, according to your wishes. Send us your request for the Machame Route online free of charge and without obligation. We will contact you with a personal offer.
Tested for sustainable engagement!
We are committed to more responsibility and sustainability in tourism. Therefore, we were awarded the TourCert Check and are part of the TourCert community!
True to the motto "Travel for tomorrow" we develop our company from a sustainability perspective and can therefore associate ourselves with the TourCert Check.
In addition, all our trips are carried out under the guidelines of the Kilimanjaro Porters Assistance Project (KPAP) with regard to payment and equipment of porters and mountain teams.