Climbing Mount Meru, the little brother of Kilimanjaro!
The ascent of Mount Meru impresses with its idyllic landscape, fantastic views of Kilimanjaro and an often quiet atmosphere without much hustle and bustle. The mountain is also an excellent preparation for climbing Kilimanjaro.
3- or 4-day ascent of Mount Meru
The ascent of Mount Meru is a special experience that relatively few travelers have yet discovered. Mount Meru offers great views, impressive scenery and, thanks to its altitude profile, prepares you optimally for an ascent of Kilimanjaro. You will also have the opportunity to observe wild animals. You can choose between a shorter (3 days) and longer (4 days) ascent. In total you will spend 5 or 6 days in Tanzania.
With us you can book the ascent of Mount Meru starting at 810 USD per person. For an individual offer simply send us your request.
Sensational views of Kilimanjaro and ideal for acclimatization
Mount Meru is the second highest mountain in Tanzania at 4,566 meters (14,980 ft) and the fifth highest in Africa. During the ascent you have impressive views of Arusha National Park and the surrounding mountains. Mount Meru is often climbed in combination with Kilimanjaro but is also worth a trip on its own.
The ascent takes place via the south route and the descent via the north route. Overnight stays are in huts, which usually consist of four-bed rooms and are equipped with double bunk beds. All campsites are in direct radio contact with the management of the national park. The number of visitors to Mount Meru is comparatively low.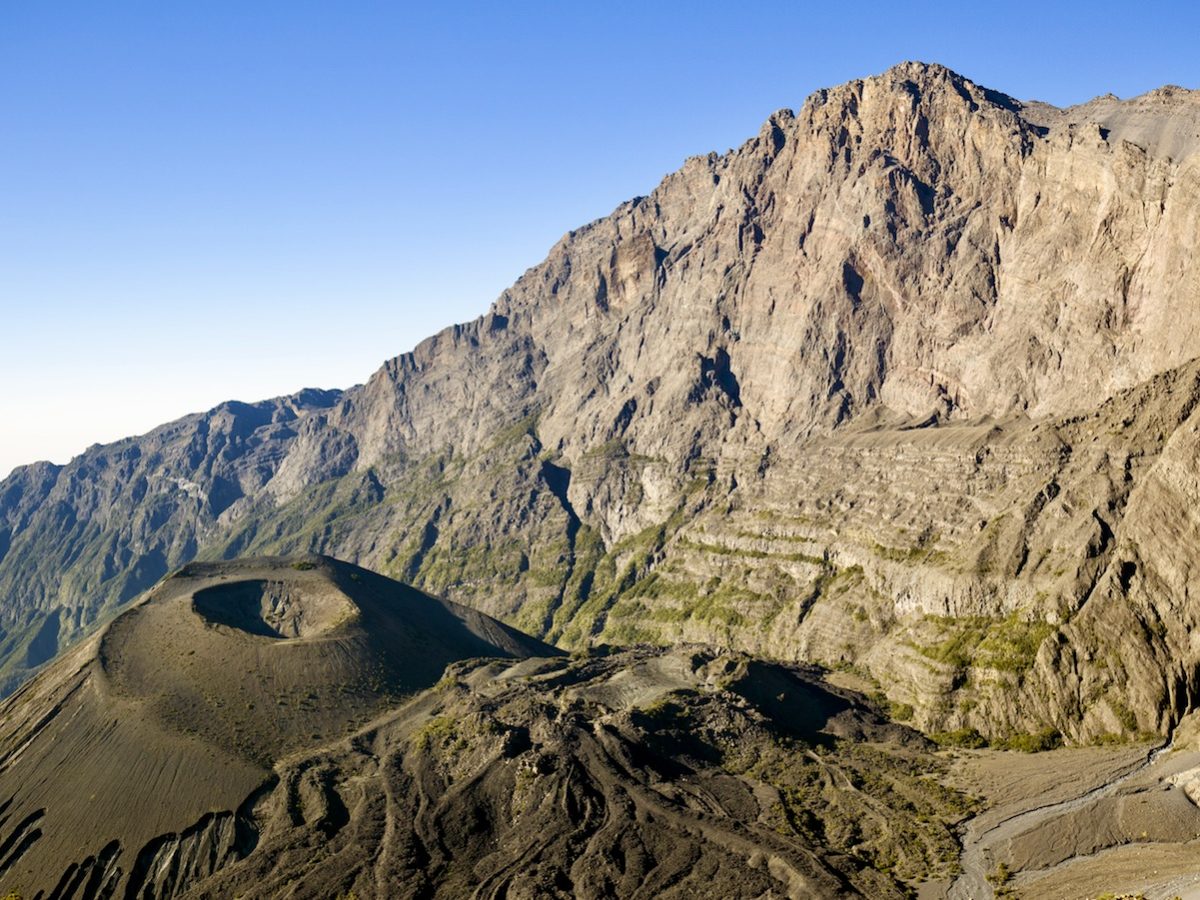 Our travel proposal
Day 1: Kilimanjaro Airport – Moshi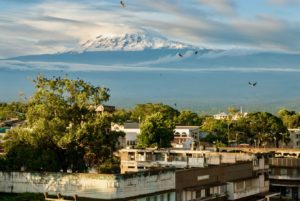 Welcome to Tanzania! Upon arrival at Kilimanjaro International Airport, you will be welcomed by your driver. Together you drive in the direction of Moshi (about 60 minutes drive). You are already expected at Chanya Lodge, which is located in a quiet area close to the centre of the small town. Upon arrival at the lodge, a detailed briefing and equipment check will be held, i.e. you get important information for climbing Mount Meru during the upcoming days. The afternoon is at your free disposal and can be used, for example, to explore the place or relax by the pool. Dinner takes place at the lodge but can optionally be placed at another location (own organization necessary).
Day 2: Moshi – Momella Gate (1,500 m) – Miriakamba Huts (2,500 m)
Hiking time: 5-6 h | Distance: approx. 10 km | Altitude difference: approx. 1.000 m ↑ | Effort: Moderat

Once you finished your breakfast in the lodge your guide will pick you up. After the last check of your luggage you will drive together to Arusha National Park. Luggage not needed during the ascent can be stored at the lodge free of charge. After about 1.5 h you will reach the entrance of Arusha National Park.
Upon arrival, you will be registered by your guide in the national park. In addition, final preparations are made, such as baggage loading. Afterwards you continue your journey by jeep for a short time before reaching Momella Gate and finally start the first stage on the mountain.

This will take you through open grassland and tropical dry forest to various types of tropical rainforest. You will discover a variety of plant species and will most likely see wildlife such as buffalos, antelopes, monkeys, elephants and with a bit of luck even leopards. Therefore, the National Park Authority stipulates that you must be accompanied by an armed ranger. After about 2 hours you take a lunch break at Maio Falls. Afterwards you continue past the Arched Fig Tree, over an impressive plain to the Miriakamba Huts.
Day 3: Miriakamba Huts (2,500 m) – Saddle Huts (3,500 m)
Hiking time: 3-4 h | Distance: approx. 6.5 km | Altitude difference: approx. 1,000 m ↑ | Effort: Moderat

After breakfast, you will hike along steeper and narrower trails than the day before through dense mountain rainforest towards the Saddle Huts. Today's stage leads mostly through rainforest, which begins to clear shortly before reaching the Saddle Huts.
Thanks to the increasing height and the protection of the trees, the temperature is much lower than the day before, which makes hiking more pleasant. At an altitude of approx. 3,200 m (10,500 ft) you take a first break at the so-called Mgongo wa Tembo.

At noon you reach the destination of today's stage, the Saddle Huts. In the afternoon you have free time and can either relax or climb the "small Mount Meru" at about 3,800 m (12,467 ft) for better acclimatization. The view of Kilimanjaro and Arusha National Park is impressive, which is why we would recommend this side trip.
Tonight's night rest starts a little earlier than the day before, as you start the summit ascent already in the middle of the night.
Day 4: Saddle Huts (3,500 m) – Socialist Peak (4,566 m) – Miriakamba Huts (2,500 m)
Hiking time: 12-15 h | Distance: approx. 18 km | Altitude difference: approx. 1,066 m ↑ and 2,066 m ↓ | Effort: High

Let's go, let's go! Your hike up to the summit of Mount Meru, the "Socialist Peak" at 4,566 m (14,980 ft), begins around 1 am to 2 am. Temperatures can drop well below freezing at this time and the difficulty of the route increases. The heath and moor landscapes become increasingly barren and finally change into the breathtaking alpine deserts. You make your way through the night past Rhino Point (3,800 m (12,467 ft)) and finally reach the summit. Once there you will be rewarded with an impressive sunrise and fantastic views of the country.

The descent is relatively quick, so that you are back at the Saddle Huts at late breakfast time. After an extensive break and refreshment, you continue down the mountain to the Miriakamba Huts.
If you have decided for the 4-day hike, you will spend the rest of the day and the night in the Miriakamba Huts. Otherwise you will only make a short stop and return to the lodge the same day.
Day 5: Miriakamba Huts (2,500 m) – Momella Gate (1,500 m) – Moshi
Hiking time: 2-3 h | Distance: approx. 6 km | Altitude difference: approx. 1,000 m ↓ | Effort: Low

If you have decided to do the 4-day hike, the last day of your hike starts today with a relaxed breakfast (otherwise you have already returned to the lodge the day before). Afterwards you descend through grasslands and rainforests. Today you have again the opportunity to observe different wild animals. In addition, the descent path offers excellent views back to the crater as well as over the wide plains of the national park. Once you arrive at Momella Gate you will receive your summit certificate and say goodbye to the mountain and your team. On the way back to your lodge you can stop for lunch. Once you arrive back at your accommodation – enjoy the shower! The rest of the day is at your disposal. Celebrate it the way you want, you deserve it! You're spending the last night of your trip in your lodge in Moshi.
Day 6: Moshi – Kilimanjaro Airport

After a good night's sleep and a big breakfast, you check out of the lodge. If you have planned further activities, you continue your individual travel program accordingly. Alternatively, your driver will drive you to Kilimanjaro International Airport and you will start your journey home.
If you also book a subsequent ascent of Kilimanjaro, safari or holiday on Zanzibar with us, we will adapt our travel proposal to you accordingly.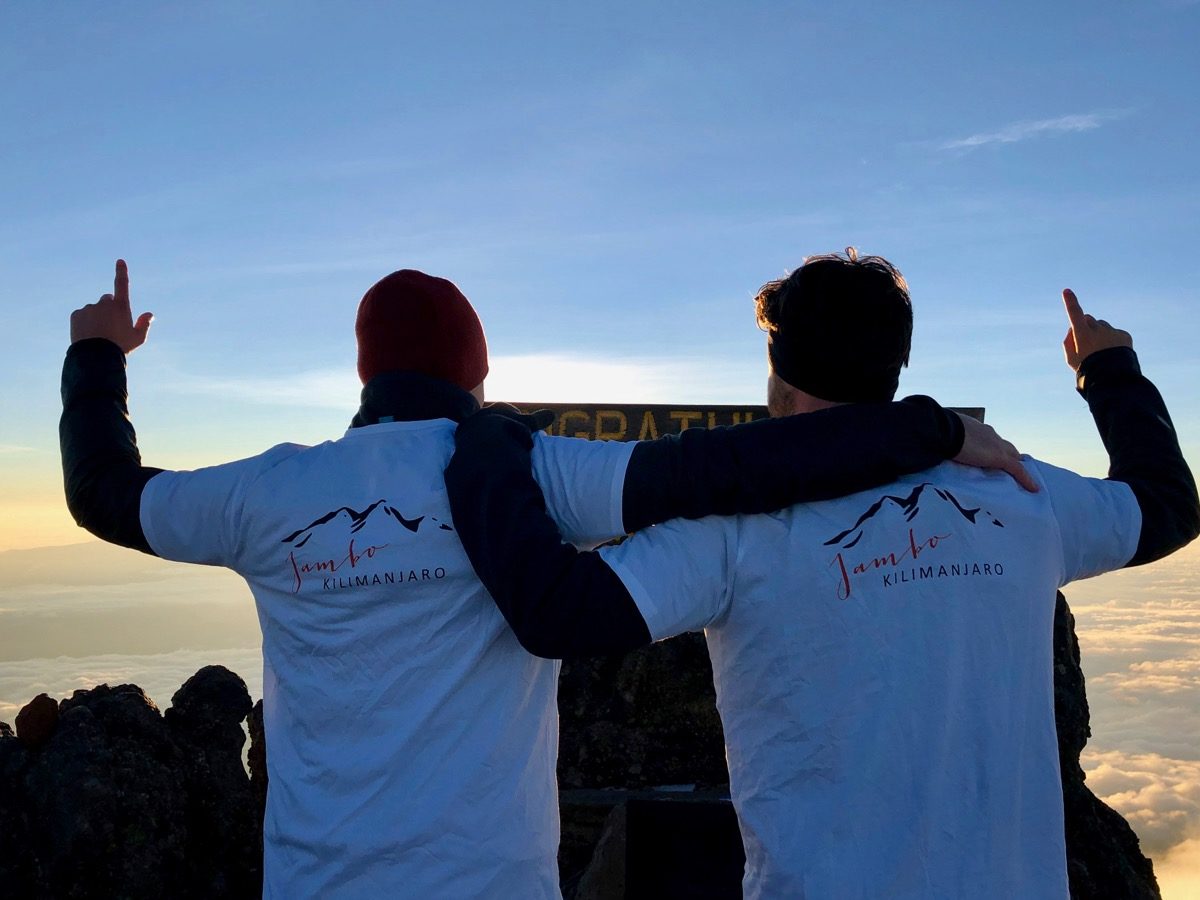 Our promise
Each of our trips is individually planned based on our experience and your wishes. Authentic and sustainable travel is especially important to us.
We therefore do not sell anything that we have not experienced ourselves and found to be good. We convince ourselves firsthand in order to make an unforgettable adventure in the heart of Africa possible for you.
Here you can see what our journey to Mount Meru looked like.
The following services are included in the price
Organization of the trip by Jambo Kilimanjaro
4 days ascent of Mount Meru (alternatively 3 days tour possible)
5 nights (3 nights in huts / 2 nights at Chanya Lodge)
Half-board in the lodge, full-board during the Kilimanjaro ascent (more details can be found here)
Transfer from and to the airport
Transfer to and from Mount Meru
All park and camp fees
Trained and certified guide (English speaking, German and French on request)
Trained cook, certified porters and ranger from Arusha Nationalpark
First aid kit and emergency oxygen cylinder (per group)
Pulse oximeter for health checks
Safe luggage storage at Lodge while on trek
Execution of the trip in accordance with the specifications of the Kilimanjaro Porters Assistance Project (KPAP)
Send us your request
We plan each trip individually, according to your wishes. Send us your request for the ascent of Mount Meru online free of charge and without obligation. We will contact you with a personal offer.
Tested for sustainable engagement!
We are committed to more responsibility and sustainability in tourism. Therefore, we were awarded the TourCert Check and are part of the TourCert community!
True to the motto "Travel for tomorrow" we develop our company from a sustainability perspective and can therefore associate ourselves with the TourCert Check.
In addition, all our trips are carried out under the guidelines of the Kilimanjaro Porters Assistance Project (KPAP) with regard to payment and equipment of porters and mountain teams.
Picture credits: Picture © davidevison (Adobe Stock) | Picture © davidevison (Adobe Stock) | Picture © salparadis (Adobe Stock) | Picture © davidevison (Adobe Stock) | Picture © makasana photo (Adobe Stock) | Picture © davidevison (Adobe Stock) | Picture © meny.arigur (Adobe Stock) | Picture © Carsten Krueger (Adobe Stock)