We started our journey from Arusha. With a small propeller aircraft of Coastal Airlines, we set off in the late morning from Arusha Airport towards Pangani. Alternatively, you can also travel by jeep, however, which takes much longer. After about two hours flight time and a short stopover in Tanga we finally reached the Pangani air strip located not far from the coast. A driver organized by Tides Lodge and Mawimbi Villa was already awaiting us. After a few minutes drive we already saw the first signs to the Tides Lodge, the destination of our trip. The Tides Lodge is located directly on Ushongo Beach, a beach south of Pangani. On our arrival we were warmly welcomed by Mathias and Samir, who took excellent care of us during our entire stay.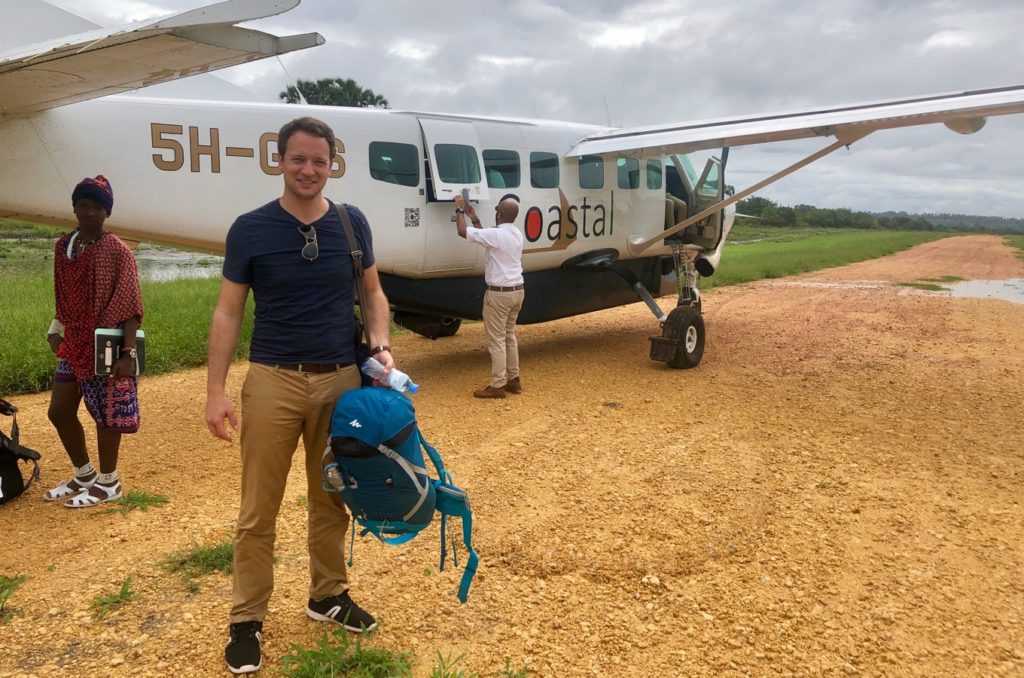 The Tides Lodge
The Tides Lodge and Mawimbi Villa are two adjacent lodgings managed by Karla and Willem. The two are caring and helpful hosts who have helped us with our travel planning. The two plots are only a few minutes drive away from each other directly on the beach. We had planned to spend some time first at the Tides Lodge and then at Mawimbi Villa. The Tides Lodge has a large main house, which invites you to relax and linger, as well as about a dozen bungalows situated to the right and left of the main house. The bungalows are lovingly and stylishly furnished and offer high comfort. Next to the sea, which is perfect for swimming, the lodge offers a pool for refreshment.
Since the complex is quite small overall, guests are taken care of very well, which we found extremely pleasant. Especially after a strenuous mountain ascent or safari, the place is ideal for relaxing. Samir made us delicious cocktails. The food prepared by Sophia was always fantastic.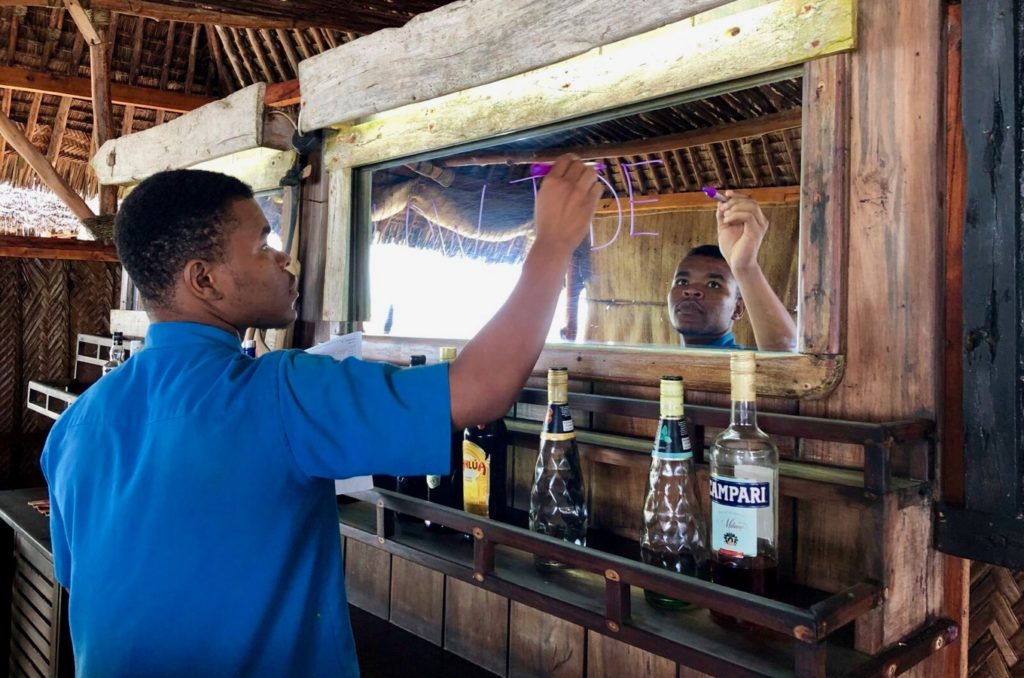 But the area has much more to offer than just relaxation. Thus, for example, visits to the very authentic surrounding villages are easily possible on foot. Samir did one of the tours with us and showed us what the life of the locals in a small coastal village is like. But also for snorkeling and diving enthusiasts the area has something to offer.
Maziwe Island!
Only a few kilometers away from the beach lies Maziwe Island. The small island seemed to appear out of nowhere as we approached it. Maziwe Island is a sandbank only a few meters high, located in the Indian Ocean and surrounded by coral reefs. We reached the small island by boat in about 45 minutes driving time. The water temperature was 28 degrees, the beach magnificent and a small tent offered protection from the sun. The island is ideal for extended picnics, to relax and to discover the underwater world. We got our equipment from the Tides Lodge and therefore had less luggage of our own to carry. We put our goggles on, got the snorkel ready and dived into the water! The following moments: simply impressive! The underwater world is colorful thanks to the countless corals and the varied animal life. Besides lionfish and other fish species we saw blue starfish and other exotic sea creatures. A great trip!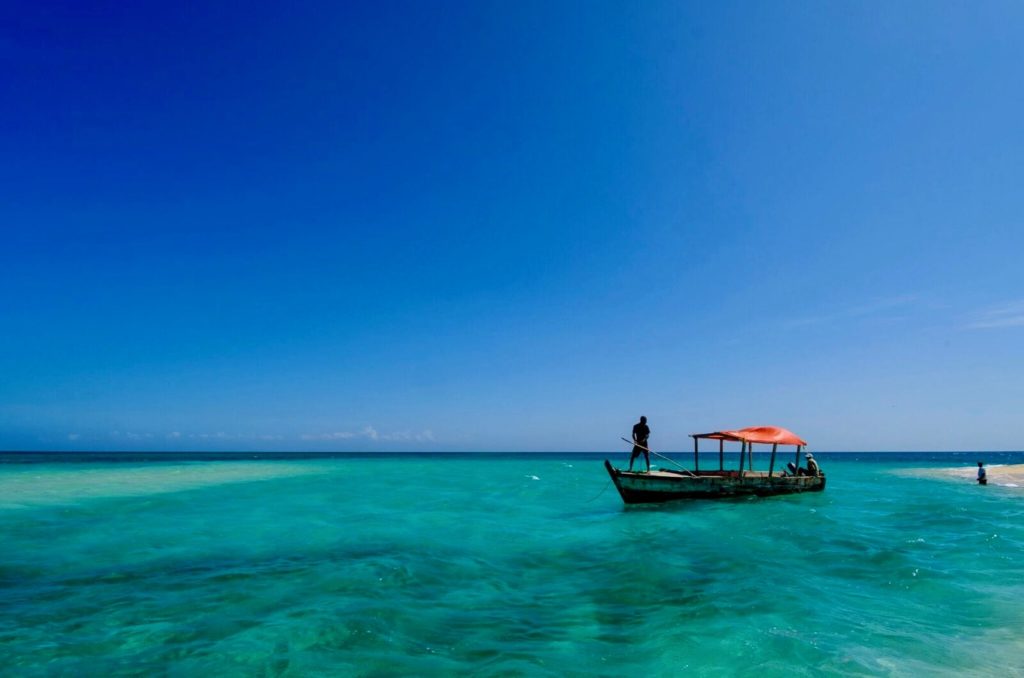 After our time at Tides Lodge we set off for our second stop at Ushonog Beach, Mawimbi Villa.
Mawimbi Villa
Mawimbi Villa is also located directly on the beach but differs from the Tides Lodge. Mawimbi Villa is an early 20th century villa of enormous size. It has a pool and can accommodate up to 10 adults and two children. Normally it is only rented to groups, a booking by different travel groups is rather rare due to the intimacy. The five bedrooms are all very stylishly furnished, spacious and most have their own bathroom. The common rooms such as living room and veranda are ideal for resting and relaxing. From the balcony you have a great view to the ocean.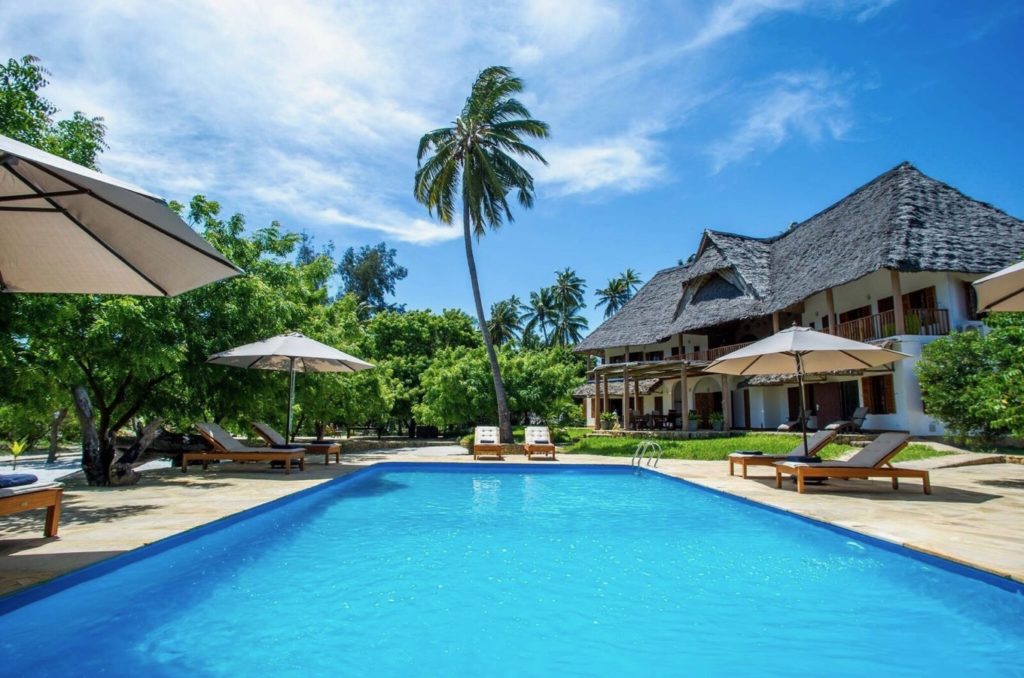 If you stop at Mawimbi Villa, you will certainly not leave hungry again. Full board is included in the rental price. Once more, we were very lucky to have Sophia as our cook by our side. She prepared delicious food for us, especially fish and seafood. All in all, we had a great experience of a special kind!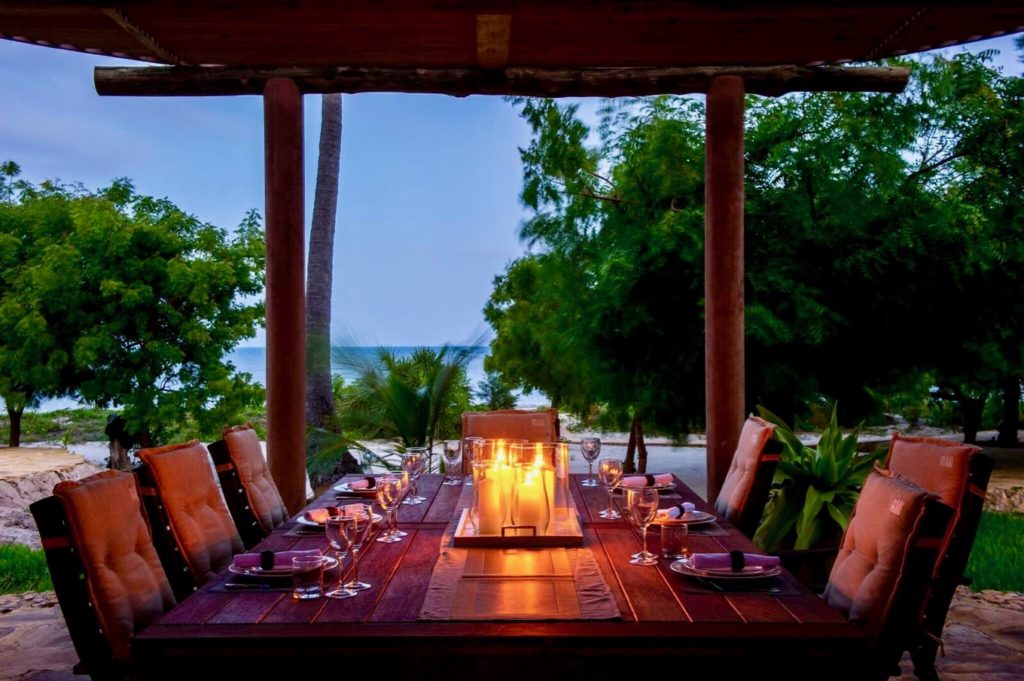 Much too fast the time passed by at Ushongo Beach and we continued our journey with a little adventure.