Anyone thinking of the vegetation in Tanzania probably first thinks of the extensive savannah. But if you take Kilimanjaro into consideration, you discover four more vegetation types. The vegetation zones on Kilimanjaro are created by the unique climate on the mountain. Depending on the altitude you are at, and the route you are hiking, you are surrounded by dense rainforest or eternal ice. Machame Route, for example, is considered a bit more demanding, but the most scenic and varied route. It is similar to Umbwe and Mweka Route.
Tropical mountain rainforest
There are various gates through which you can enter Kilimanjaro National Park. Machame Gate as well as Mweka and Marangu Gate are located at an altitude of about 1,800 to 3,000 meters (around 5,900 to 6,500 ft). Thus, your hike begins in the vegetation zone "tropical mountain rainforest". You walk on paths through the lush green. Up in the trees you see groups of monkeys making their way through the leaf canopy every now and then. It is humid, about 20 to 25 °C (around 68 to 77 °F), and occasional rainfalls are common, especially in the afternoon.

Moorland
Another couple of hours and some short breaks later, the until then thick rain forest starts to thin out. At an altitude of almost 3,000 meters (around 9,800 ft) you have arrived at the beginning of the moorland. Shorter trees as well as an increasing number of ferns and mosses are typical for this vegetation zone. Moreover, it gets slightly chillier, and you are at around 15 to 20 °C (59 to 68 °F) when you reach your first camp.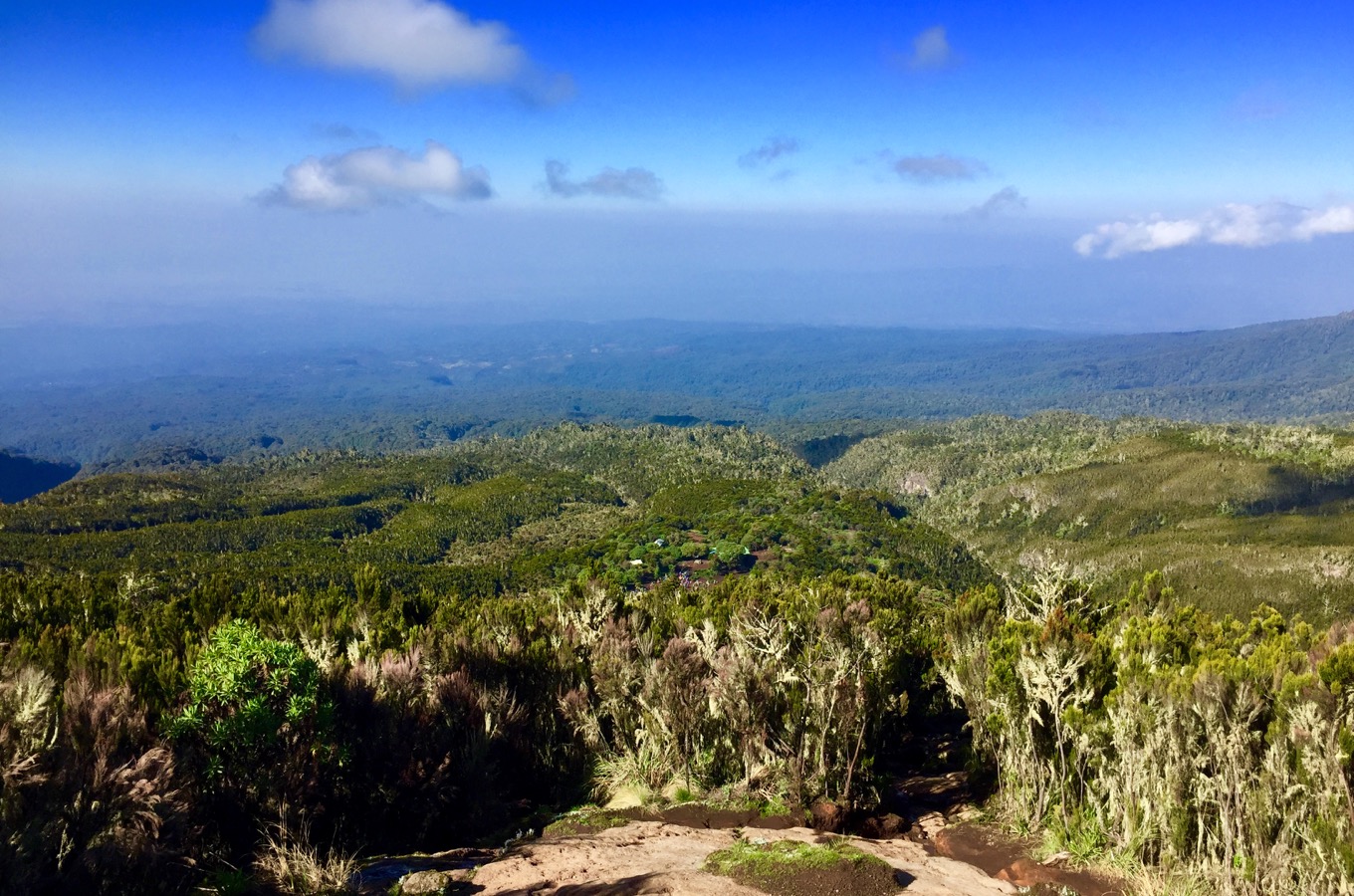 Alpine desert
Already from the moorland, but at the latest from the stone desert, you have impressive views. By now you have arrived at an altitude of about 4,000 meters (around 13,100 ft). The ascent is mostly less steep than before, and you're walking on paths across seemingly endless expanses and scree fields towards Kibo and Uhuru Peak. The vegetation in the stone desert is altogether quite sparse. However, at the border to moorland you will see unique plant species such as giant groundsels (dendrosenecio kilimanjari), a type of plant that can become hundreds of years old.

Eternal ice
You will usually see the eternal ice, the glaciers on Mount Kilimanjaro, right next to you for the first time on summit day. The glaciers are thousands of years old. However, their surfaces have decreased dramatically over the past decades, and glaciers are likely to completely disappear in a few years. Already before, however, you walk partly on ice and snow, depending on the route you have chosen, and the seasonal weather conditions on the mountain.