If you are planning on doing a safari, you can usually expect to get up early. Alternatively, you can take it easy and start your game drives at noon. We are, however, of the first type safari travelers. In addition, many animals are more active in the morning and thus the chance of seeing some different ones is higher. Consequently, our first day of the safari began early. Around seven o'clock in the morning our driver Michael picked us up with his jeep from Meru View Lodge. We had planned a safari of four days and three nights, the first night of which in tents. The other two nights we wanted to spend in a Tented Lodge as well as in a Lodge. Since camping safaris require you to prepare your own food, you will be accompanied by a cook on this type of safari. With the jeep we drove from the lodge towards Arusha, where our cook Dan joined us. The joint trip from Arusha to Fanaka Campsite in Mto wa Mbu took about another two hours. Once there we unloaded our luggage and ate lunch. Afterwards we set off to…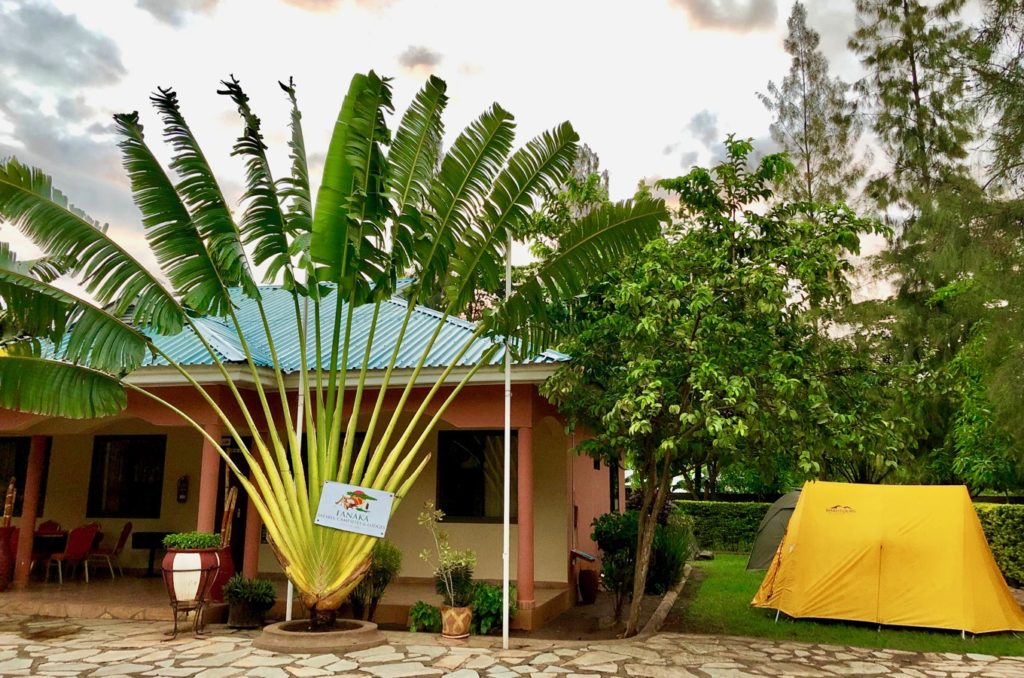 …our first game drive!
Game drive, what does that mean? In simple words: you go on a discovery tour through a national park in a jeep together with your guide, who is at the same time your driver. A grandiose experience! There were only the two of us on safari and together with our guide we were three in the car. Therefore, we had enough space for our belongings and a clear view outside. Regardless of the type of activity, i.e. both trekking in Kilimanjaro National Park and safaris, you must register in the national park before entering it. You don't have to take any special documents with you, your driver has all the necessary information and registers you. Hence, a few minutes after arrival at the entrance of Lake Manyara National Park we could drive into the park with our jeep.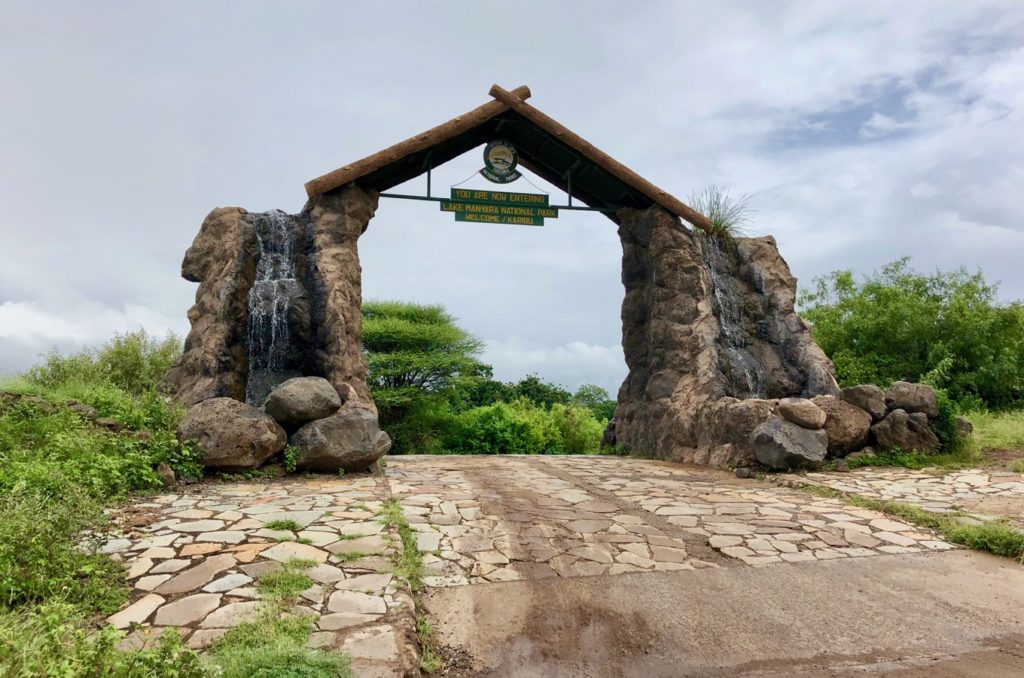 Right at the beginning a multitude of baboons lined the road. The partly pert animals are widespread in Tanzania and an integral part of every national park. There are almost no roads in the national parks, but rather trails. However, these are usually in good condition and can easily be driven on by four-wheel drive cars. After a short time, the forest, at first quite dense, begins to clear. On the increasingly open areas we could watch different animals such as impalas, helmet-guinea fowls, different antelope species and giraffes. A little later the trees disappear almost completely and open the view to the lake, Lake Manyara. For bird lovers, this view frequently presents a true spectacle. Thousands of flamingos, ibises and pelicans are regularly found on the shores of the lake. We were lucky and could, thanks to Michael's binoculars, also observe a hippopotamus grazing from a distance. In any case we would recommend taking binoculars for a safari.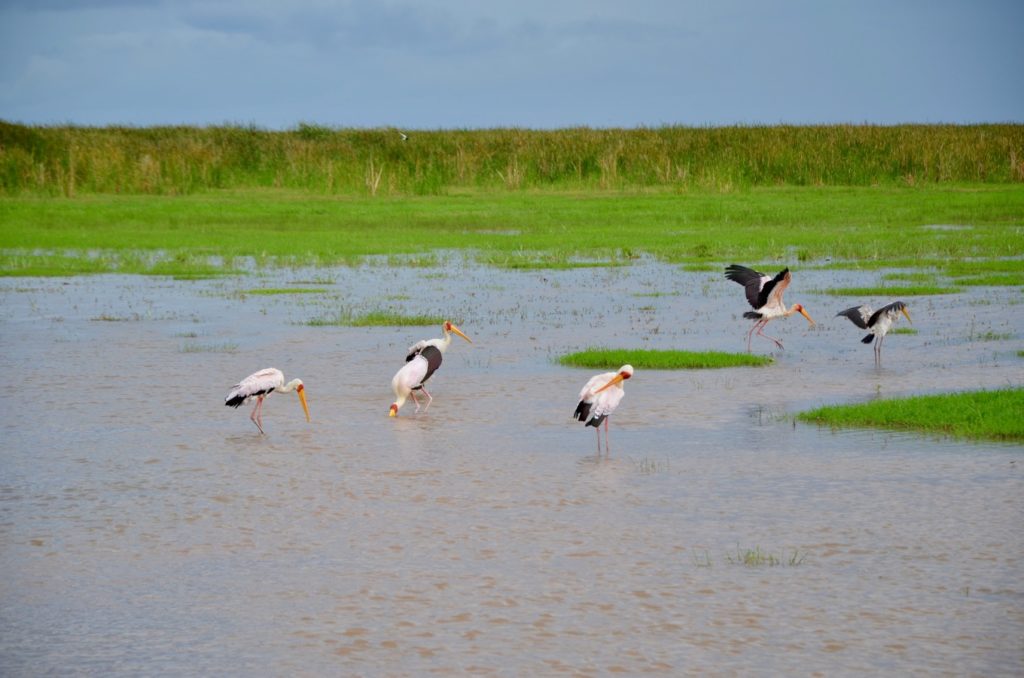 Later we reached the picnic area on a hill. From there we had a great view into the country and over the whole national park. Although Lake Manyara National Park is one of the smaller parks, it is home to an enormous variety of animal and plant species. Meanwhile it had become later afternoon. Like all national parks, Lake Manyara National Park closes at 6 pm for visitors. So we slowly made our way back to the park entrance, especially as we still had more than 10 km to go. Depending on the quality of the trails, the ride may take a little longer, especially during the rainy season. We also allowed for a bit more time in case some animals would cross our path. And that was a good thing to do.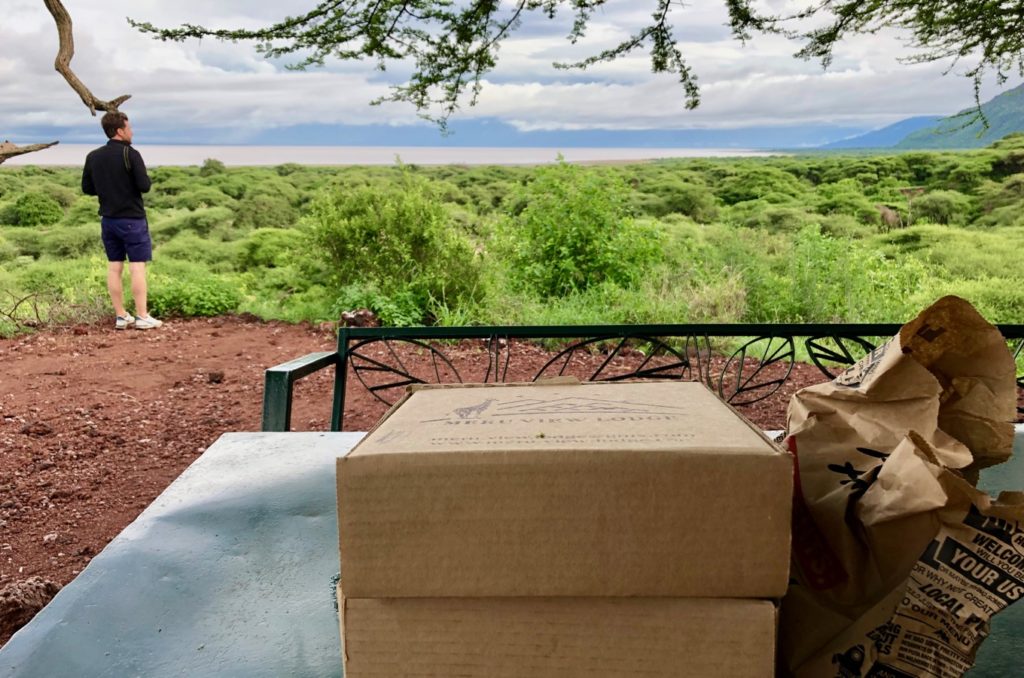 Elephants!
About 15 minutes before reaching the park exit, we saw a small herd of elephants crossing a bridge in the mostly dry riverbed. Whoa! This was the first time we saw these pachyderms in the wild at close range. The joy on our part was correspondingly great. The elephants, however, seemed little impressed and followed their usual rhythm. We thus had the chance to observe these impressive animals calmly from the jeep. Only about five minutes later we stopped again. Elephants again! This time there were two that were measuring their powers. The experience and amazement of being able to see this from just a few meters away was simply great. Altogether wild animals can be observed quite well, if one gets to see them. However, it is important not to leave the vehicle, as most of them will shy away otherwise.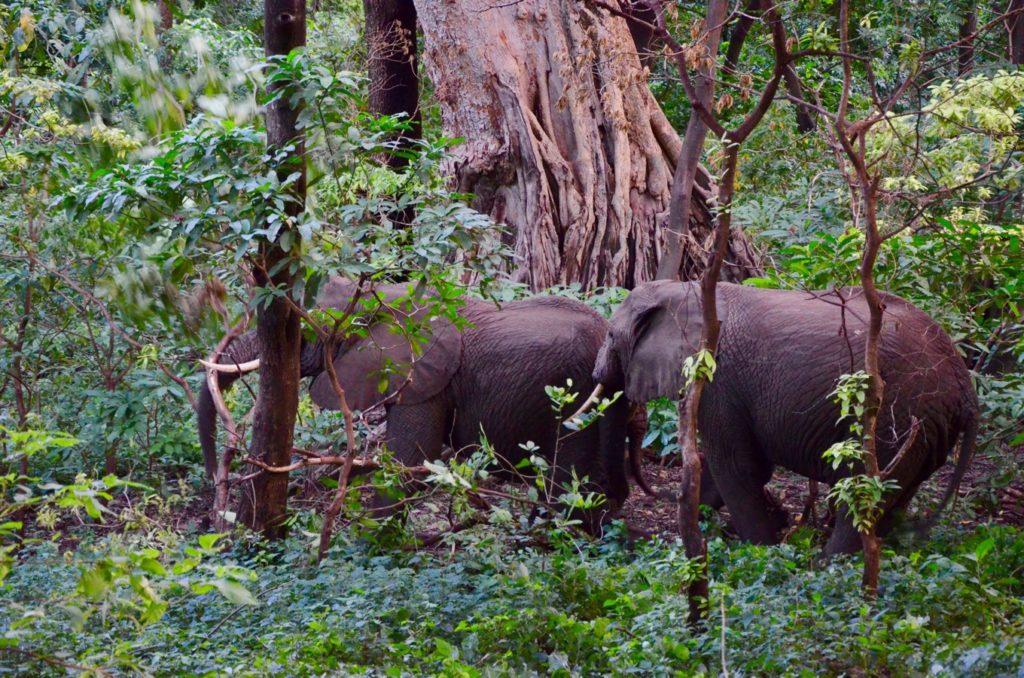 We felt the first day of our safari was a complete success and were thus returning to our campsite in the early evening already looking forward to the next days!