Our trip: Day 1 → Day 2 → Day 3 → Day 4-7 → Day 8 → Day 9-10
Day 7 of the hike: Mweka Camp (3,100 m) to Mweka Gate (1,640 m) and return to Arusha
The remaining way from Mweka Camp to Mweka Gate was easy to walk and only a few hours long. Thus, other than the days before, we got up a little later.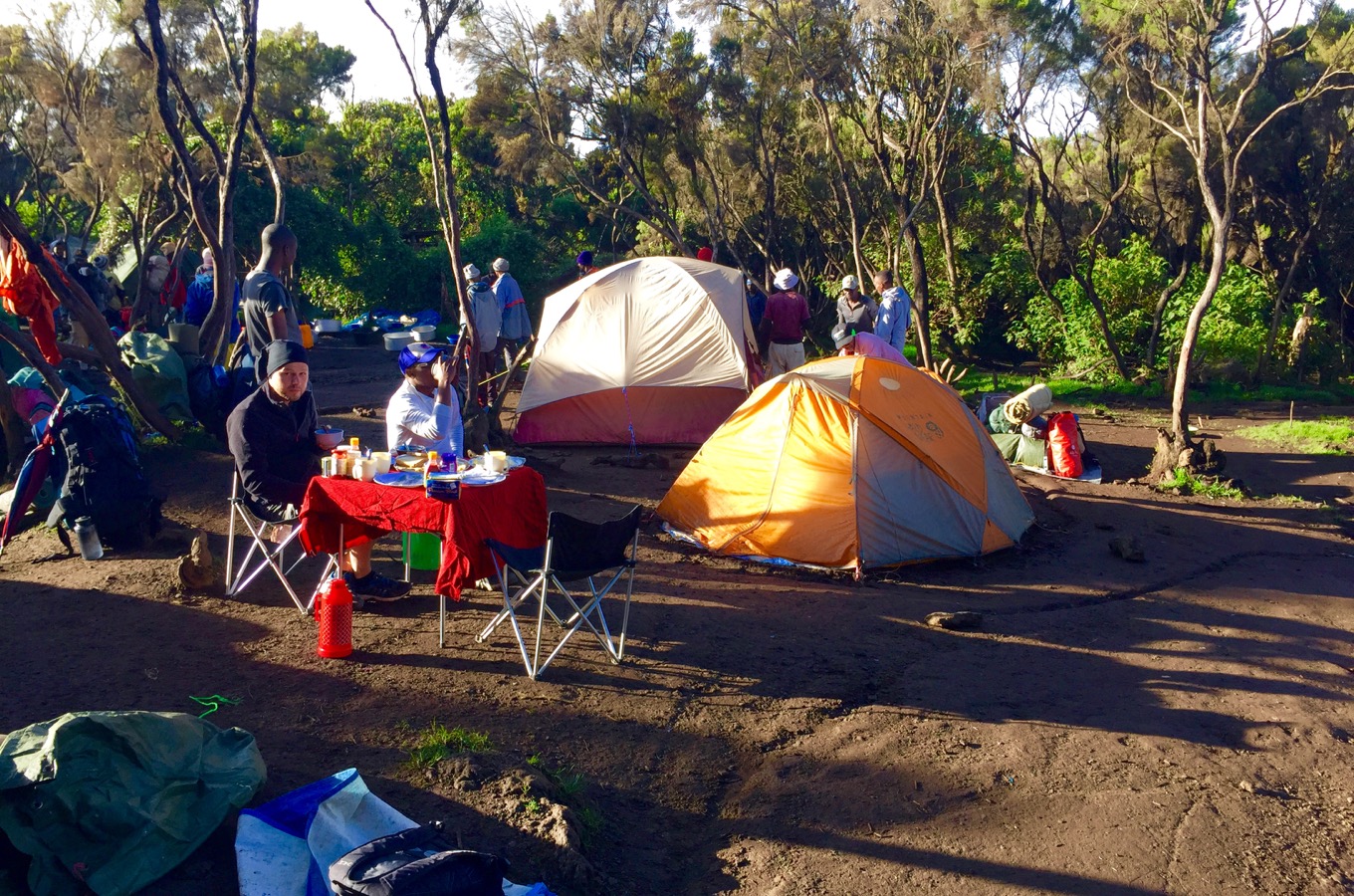 Moreover, after breakfast there was a little surprise for us. Our entire team performed the traditional farewell ceremony, which stands for a successful climb. Be surprised!
Before leaving the camp, tips are given to the team. Tipping is a tradition in East-Africa and presents an important contribution for people to make a living. Thereafter we began our final stage. At first, we walked through moorland, which turned into an ever-lusher mountain rainforest. We saw different types of birds and monkeys – familiar companions, that we got to know the first day. Moreover, the air warmed up and was increasingly humid.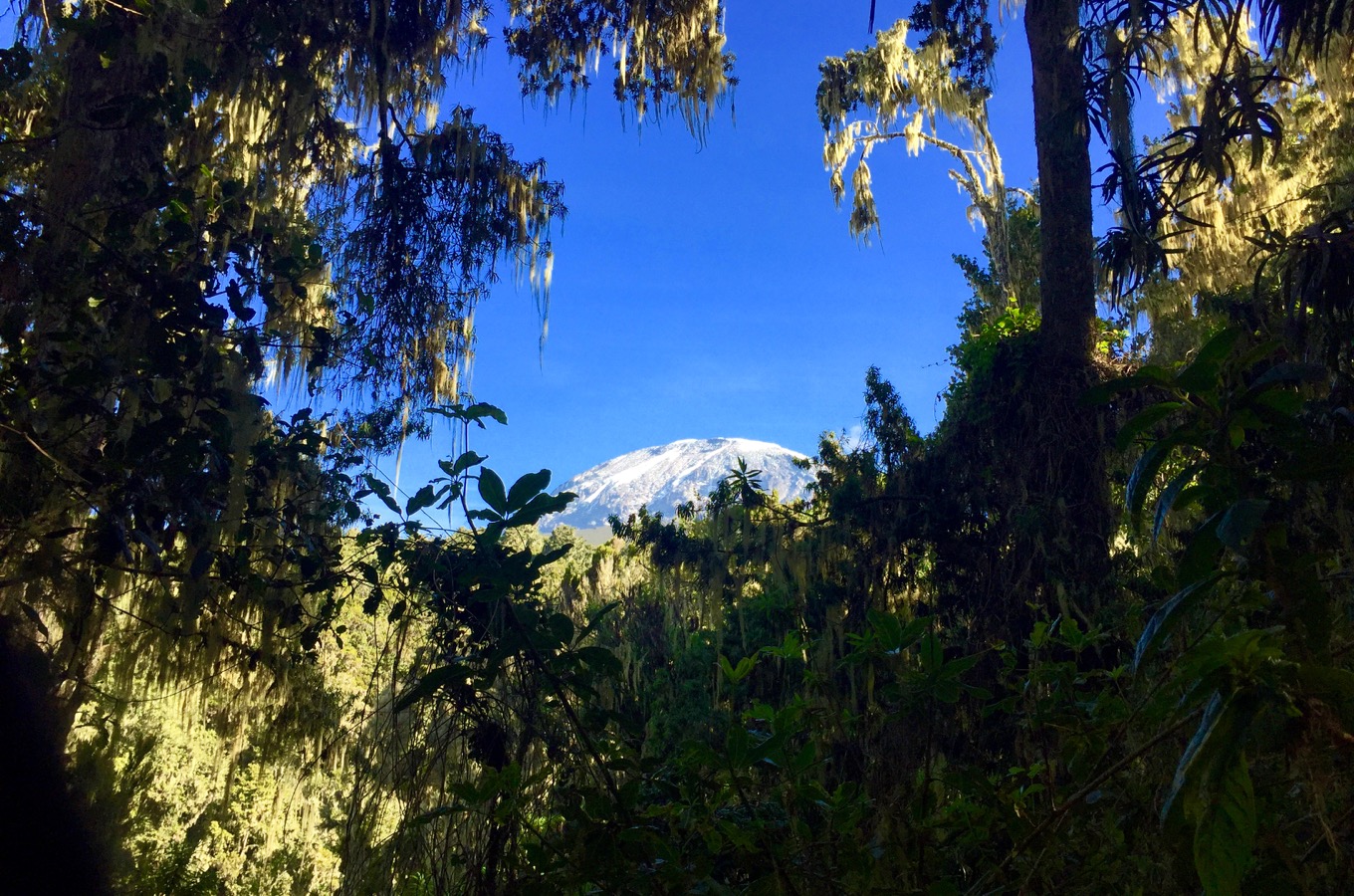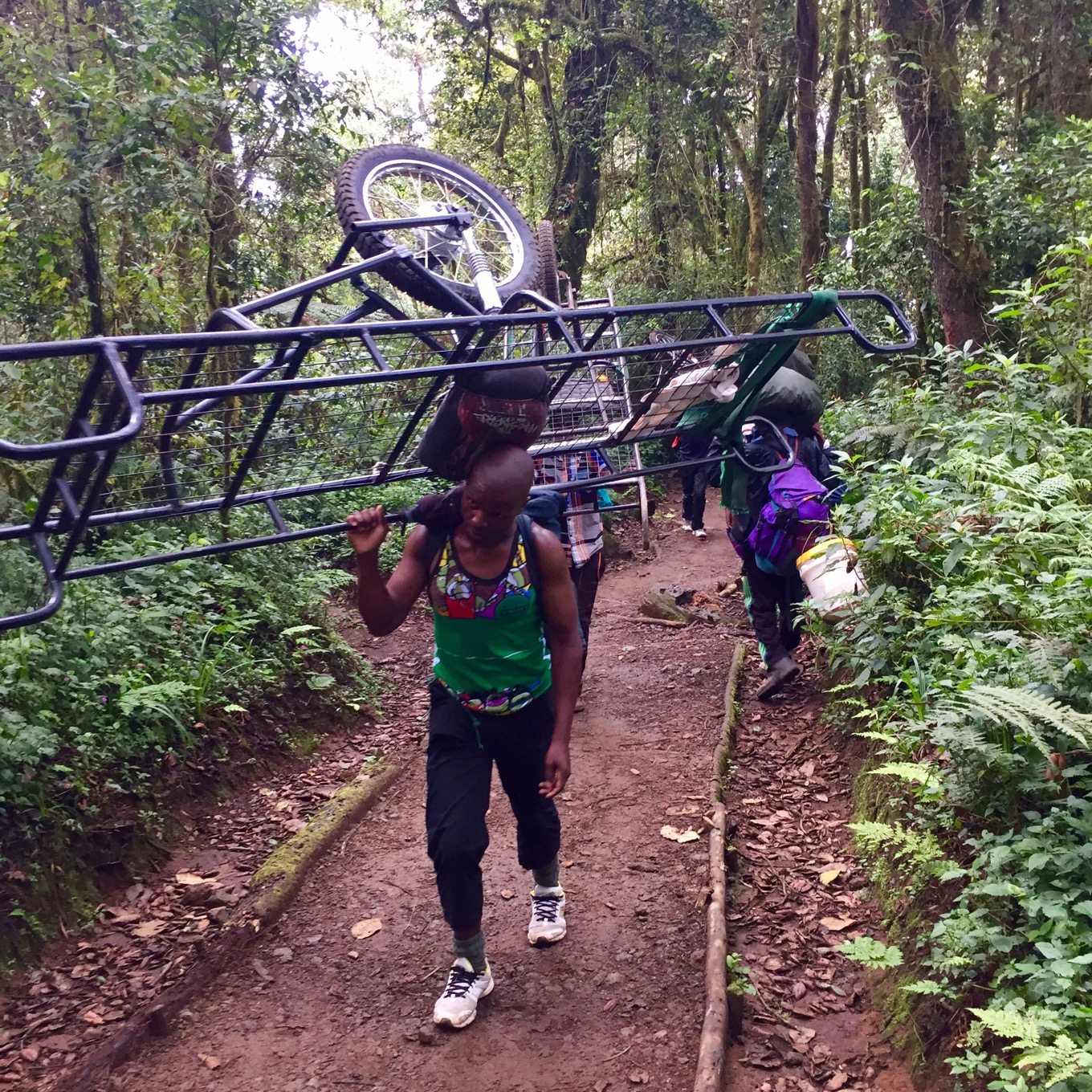 Shortly before lunchtime we reached Mweka Gate, and thus the exit of Mount Kilimanjaro National Park. Like in the other camps and at the beginning of our hike, we once more registered at the gate.
That was it, "check-out" of the National Park!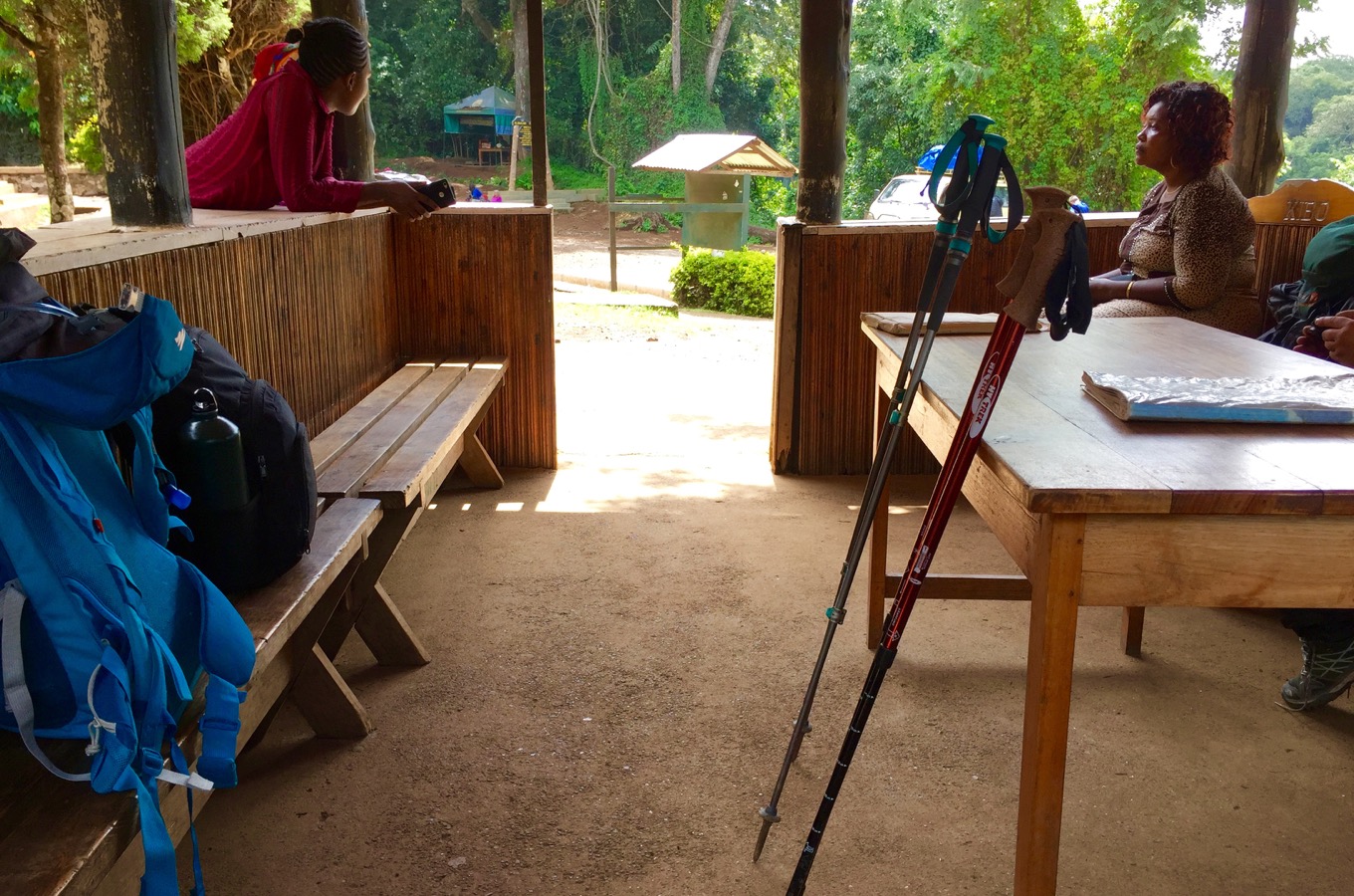 We thus had concluded our impressive journey, the 7-day hike of Mount Kilimanjaro. Yet, some more was about to come…
…lunch in Moshi!
Again, we asked our guide Erasto where to eat as authentic African food as possible. He proposed a restaurant in the center of Moshi. The drive from Mweka Gate to Moshi took around 20 minutes. It leads through banana and coffee plantations, past small mountain villages of the Chaga people (the third largest ethnic group in Tanzania), and down the slopes of Mount Kilimanjaro.
Once we arrived in Moshi, we indeed had typical East African food – polenta with meat, fish, different dips, and vegetables. Moreover, as a surprise Erasto had invited his wife to join. As a little souvenir, we each received a robe of the Masai tribe. The Masai represent one of the largest ethnicities of the more than 100 tribes of Tanzania, counting around 1 million members. In addition, they are one of the world's most renowned tribes. Finally, mich also received a certificate for successfully having climbed the summit of Mount Kilimanjaro.
After lunch, we continued our way back to Arusha. The drive from Moshi to Arusha took us around another 2 hours, even if the distance is less than 100 km (60 miles). Along the way, we said goodbye to some of the porters, who had joined us during our trip. They came from different villages and cities in the region around the Kilimanjaro.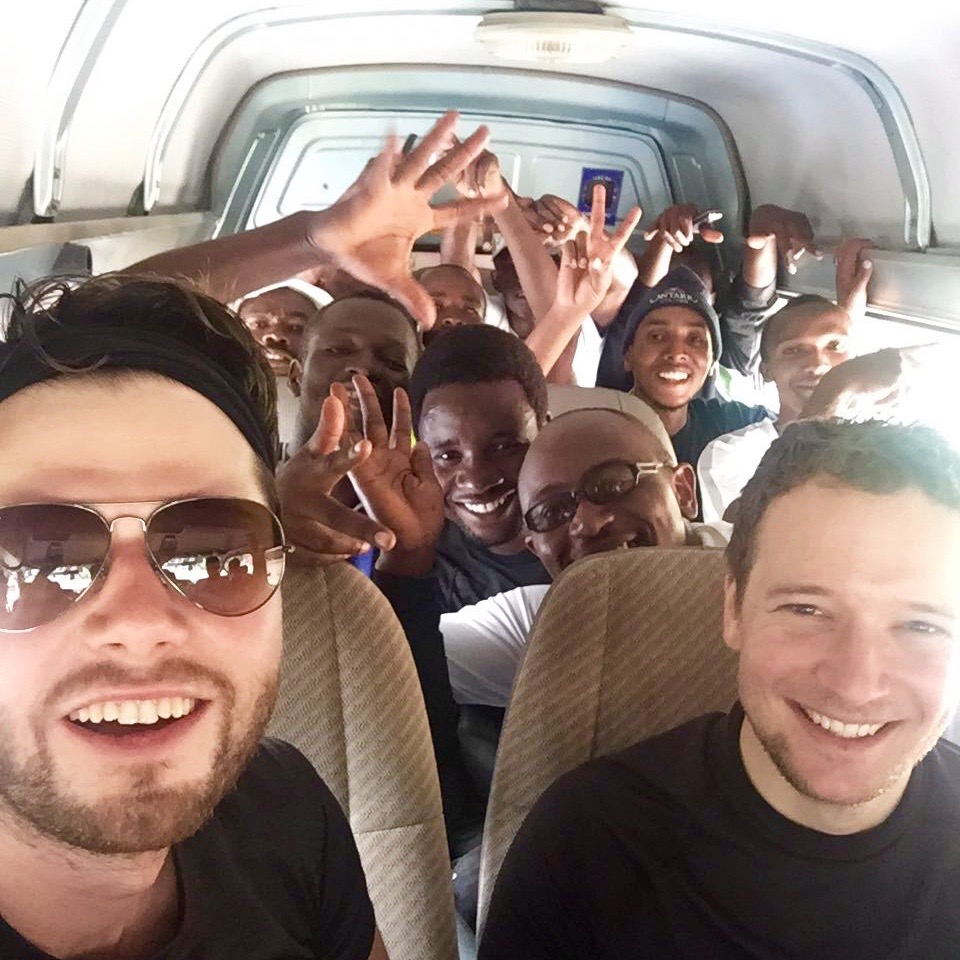 Hotel!
Back in the outskirts of Arusha, we first stopped at Ambureni Coffee Lodge. There we picked up the luggage we had not taken with us during our hike. Shortly after, we continued to another hotel in the city center. For our last night in Aruhsa, Erasto had organized a more centrally located accommodation. Even though our hotel was standard middle-class accommodation, we appreciated the two normal beds and sanitary facilities.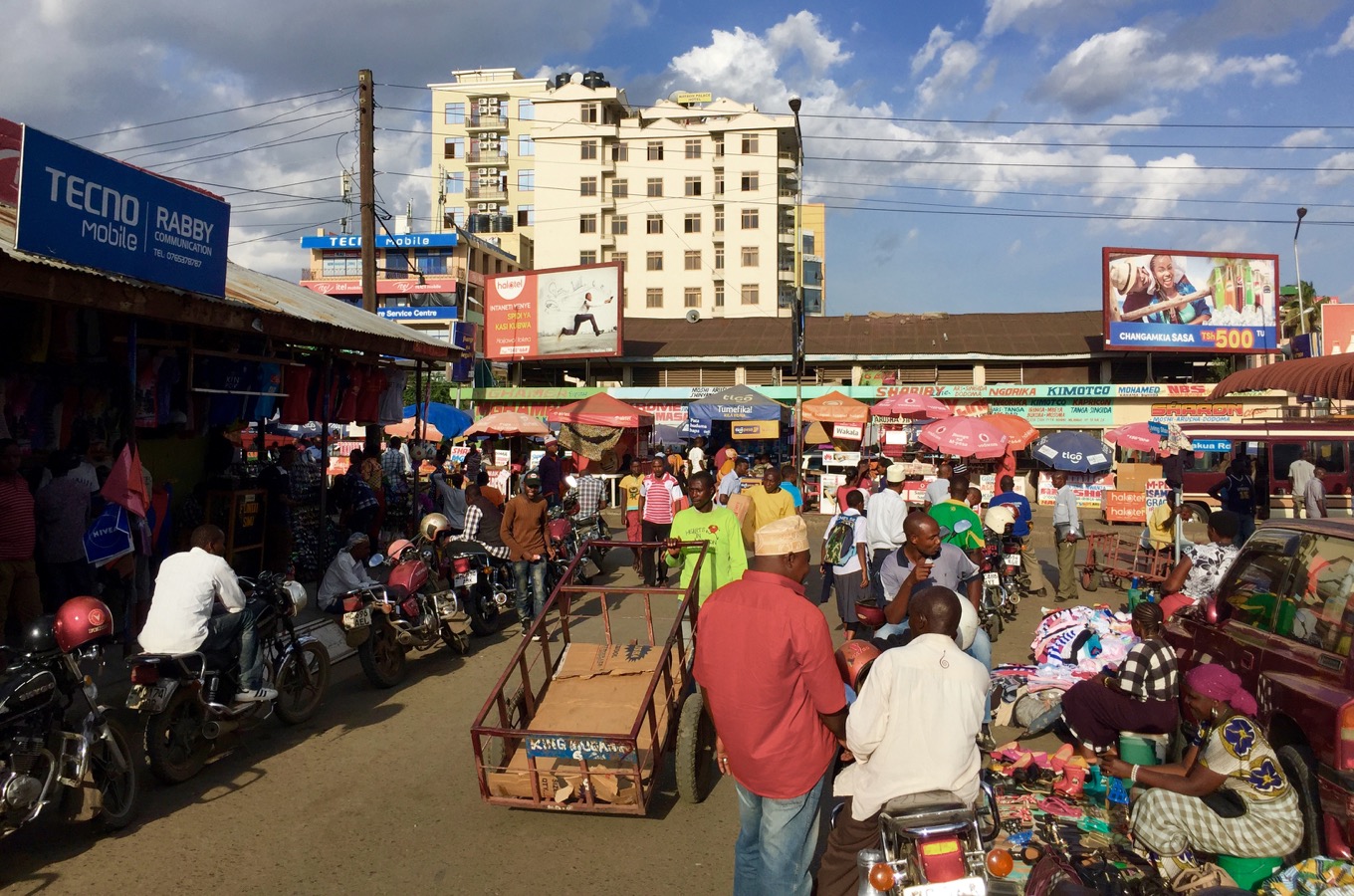 The remaining hours of the day we used for a walk through Arusha and an extensive dinner.
Departure day…
The next day, the day of departure had finally come. However, as our flight was only at 4 a.m. in the night from Saturday to Sunday we had all Saturday time to sleep in, relax, and for sight-seeing.
Erasto and our co-guide Amos picked us up at our hotel around noon. By then, we had already checked out and deposited our luggage in the hotel. We then drove together to an artists' market. Like pearls on a string there was one shop next to the other. They all offered typical local Tanzania artwork, partially handmade, partially bought off third parties. I had expected many more tourists. As that was not the case, Timo and I enjoyed plenty of attention. However, we never felt people were obtrusive. It might have also helped that we had Erasto and Amos with us – two locals, who well know about the customs and habits. Generally, many parts of Tanzania, as well as some other African countries, are safe to travel for tourists.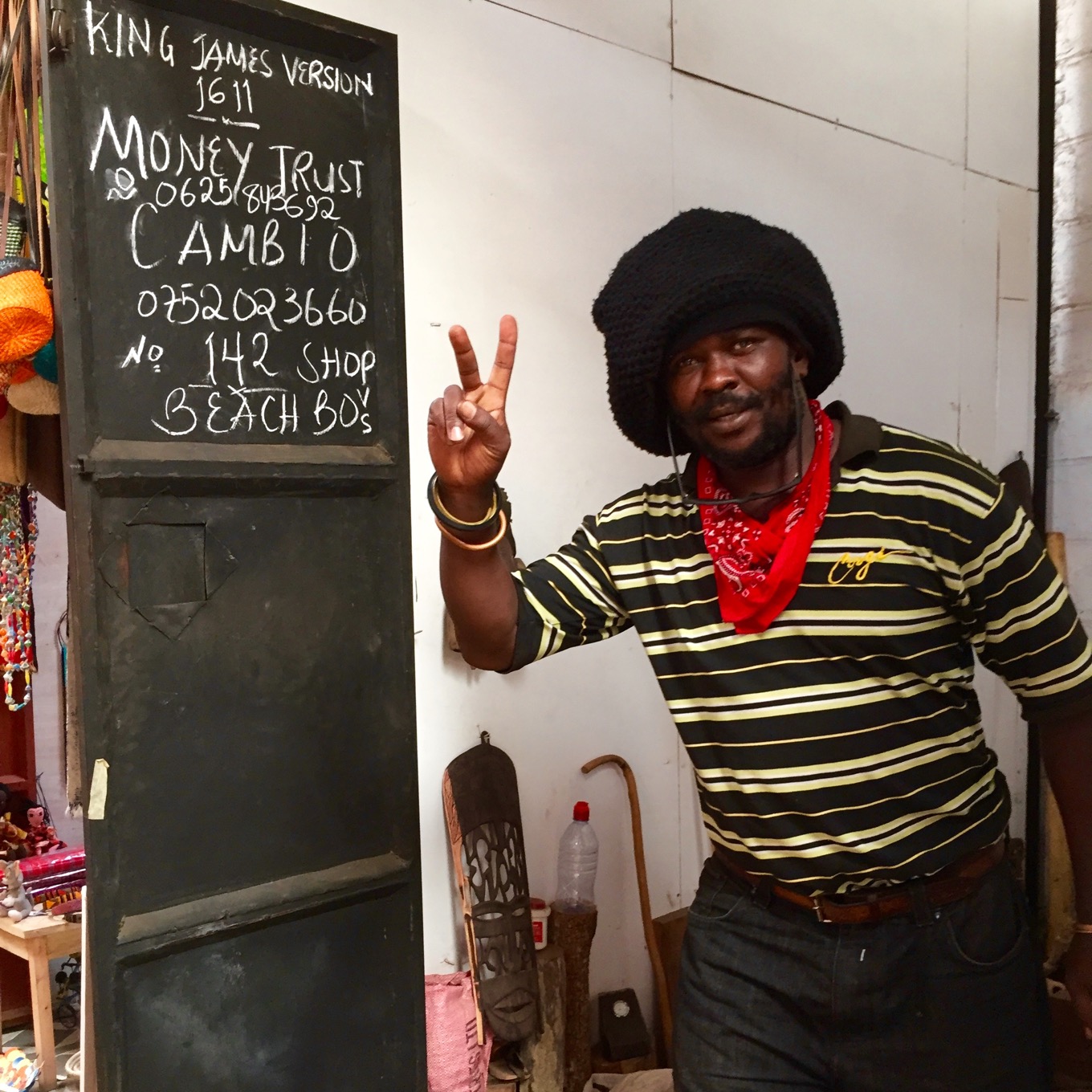 Some negotiations and a couple of souvenirs later we went for lunch. And once more we had – tasty grilled chicken!
Timo and I spent the late afternoon on our own to discover some new parts of Arusha. The eastern part of the city seems to be a little neater than the city center. From Arusha Clock Tower, we walked a few more minutes further north, and finally arrived at a nice little bar. Via Via turned out to be a great place to relax and reflect upon our trip while having a cold drink. Right next to it was another artists' market, which was considerably smaller and only offered handmade craftwork from local artists. You should definitely come and see for yourself!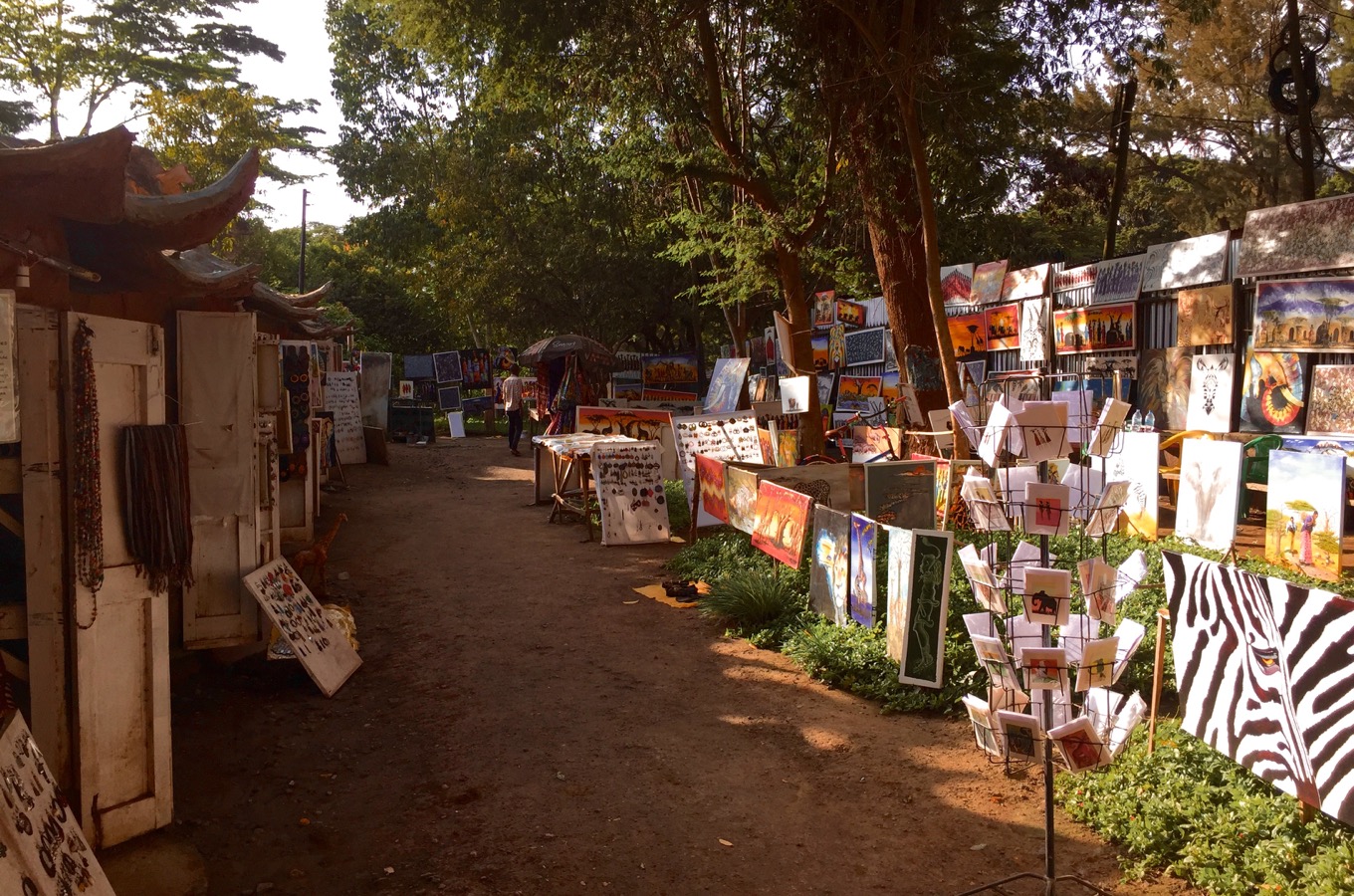 Dinner, drinks – and back to Germany!
We returned to our hotel in the early evening, where Erasto picked us up shortly after. Our driver Chris, who we already knew from the first day, was also back with us. The four of us drove together with our luggage from the city center in the direction of the airport. However, as the night was still young, we didn't go straight to the airport…
…but rather stopped to enjoy Arusha's nightlife. Yes, it exists, and is not even much different from what we knew from Europe!
We drove to a place called Sky Lounge, a mix between bar and club, probably closest to an Irish Pub. A little later, Amos joined. We had snacks, drinks, and listened to partially exotic music as well as songs we were familiar with, and watched premier league soccer on TV. A very nice end to our journey!
Around 1 a.m. we left the place for the airport, because: Our plane was supposed to leave at 4 a.m., we thus planned to arrive at the airport at 2 a.m.; and 1 hour's drive meant leaving the bar around 1 a.m. So far so good…
…if it wasn't for the flat tire, in the middle of nowhere!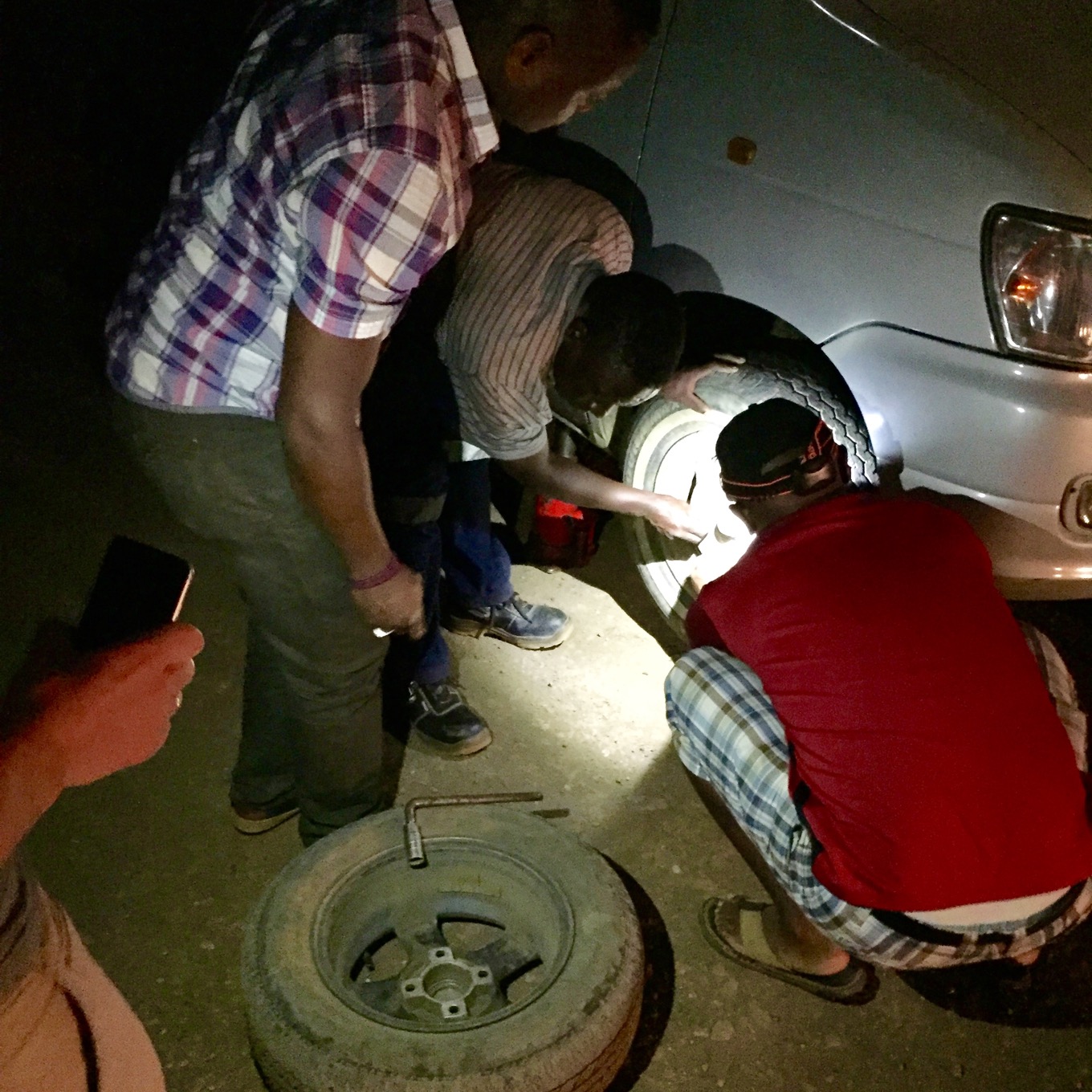 The ride to the airport went well and according to plan; except for when we got out of the car, all we could hear was a slight hissing: until the tire at the front right of the car was flat. What now? Hakuna Matata! We have a spare tire! A couple of minutes and a few simple grips later, Erasto and Chris had the car fixed. Thanks to a small buffer, we arrived at the airport at 2 a.m., ready to go back to Germany. Asante sana, Erasto, Amos, Chris, and everyone else who made this journey such an incredibly great experience for us!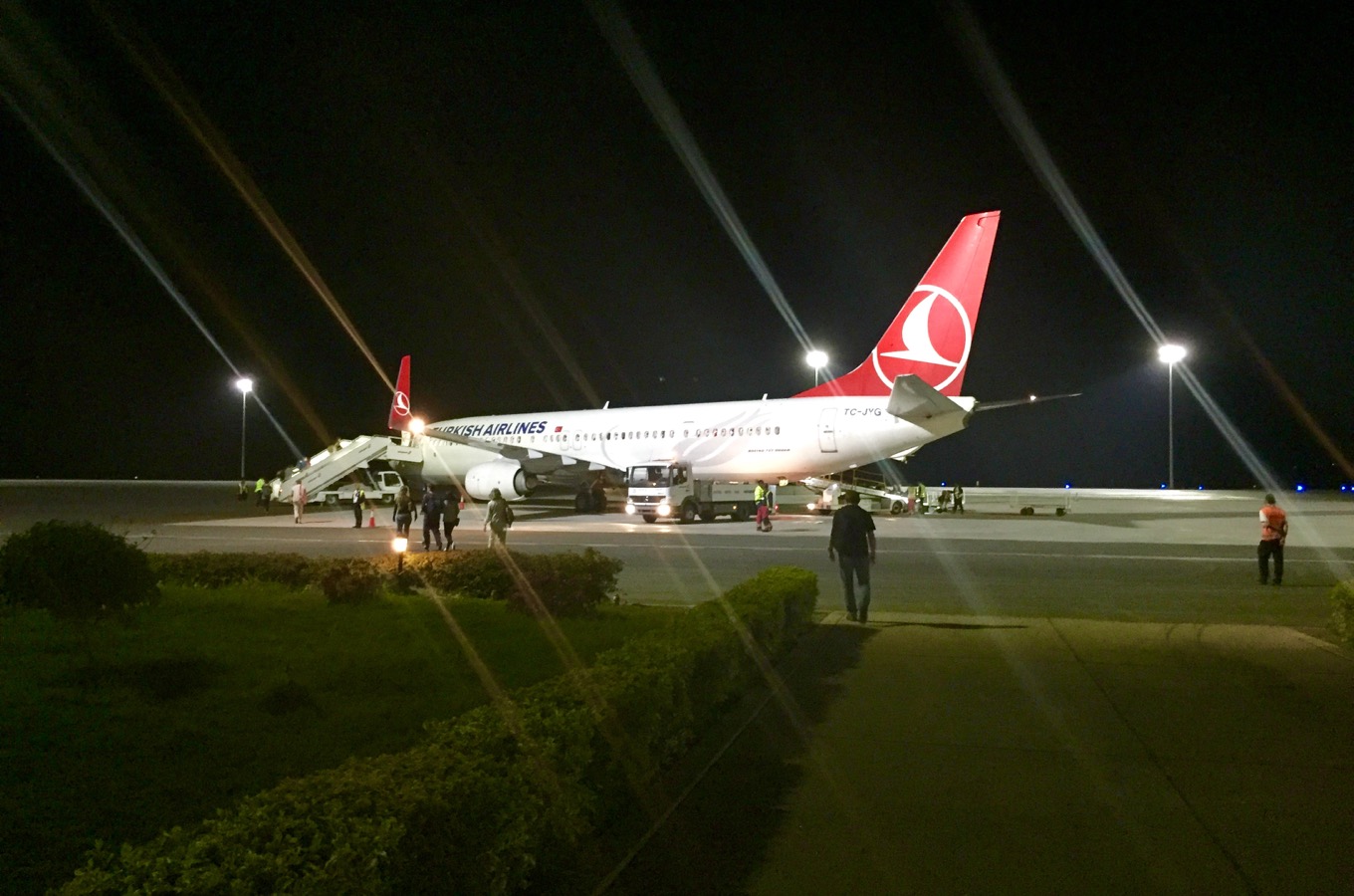 ---
Our trip: Day 1 → Day 2 → Day 3 → Day 4-7 → Day 8 → Day 9-10